Turkish parliament approves lifting lawmakers' legal immunity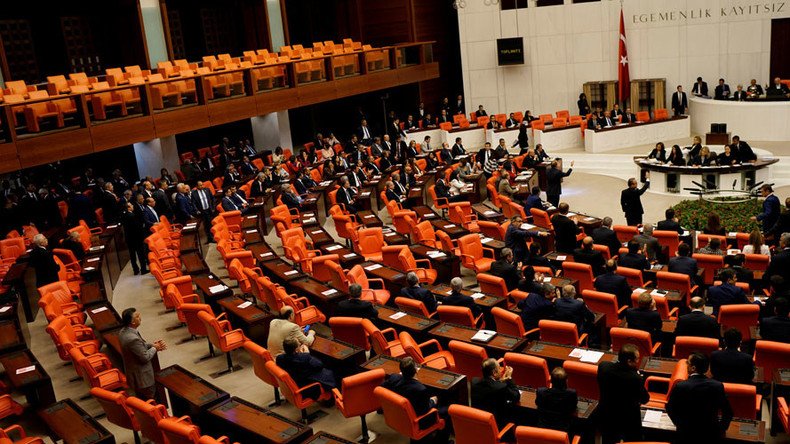 The Turkish parliament has approved a bill allowing its lawmakers to be prosecuted. The third and final vote on the matter was a secret ballot on Friday, with 376 MPs out of 550 voting in favor of the lifting of immunity from prosecution.
The bill garnered enough support to go directly to implementation, avoiding a referendum.
The government of President Recep Tayyip Erdogan, in the midst of a crackdown on free speech and the press, is apparently turning on its own lawmakers for their alleged "support of terrorism," which implies members of the People's Democratic Party (HDP) in particular, and their views on Kurdish groups.
Erdogan called the approval of the bill a decision of "historic" importance for the country.
"Today's vote is historic. My people do not want legislators who back a separatist terror organization [the Kurdistan Workers' Party] to sit in parliament. The ruling [Justice and Development] party, the Nationalist Movement Party say: 'They should not be here,'" he said during a speech in the town of Rize, northeast Turkey.
Lifting lawmakers' immunity from prosecution is aimed at empowering the presidential palace, Selahattin Demirtas, the leader of the opposition Peoples' Democratic Party (HDP) said after the voting, Reuters said. He also denounced the move as a blow against the people's will, saying it cannot be accepted as democratic and vowing to will challenge it in the Constitutional Court.
One of the MPs who could soon find themselves in hot water is Eren Erdem of the Republican People's Party (CHP). Currently under investigation for treason, his crime was to allege that the government allowed Islamic State (IS, formerly ISIS/ISIL) terrorists to deliver deadly sarin gas through its territory and on to Syria.
"Chemical weapon materials were brought to Turkey and put together in ISIS camps in Syria, which was known as the Iraqi Al-Qaeda at that time," Erdem told RT in an exclusive in December.
All 316 lawmakers from Turkey's ruling Justice and Development Party (AKP) reportedly signed the proposal.
Prime Minister Ahmet Davutoglu did not hold back, claiming the measure is aimed at "so-called lawmakers who lend support to terror and terrorists," in an apparent reference to HDP members.
The Kurdish population in the southeast of Turkey is facing a crackdown by the country's military, as Erdogan's government considers the territory a haven for the militants of the Kurdistan Workers Party (PKK).
Despite the fact that Kurdish groups are engaged in a fight against Islamic State in northern Syria, Ankara likes them no better than the terrorists. Its current military campaign against the ethnic group striving for independence began in mid-2015, ending a two-year ceasefire in a conflict that claimed over 40,000 lives since it began in 1984.
You can share this story on social media: