Turkey introduces draft law to strip 'terrorist' lawmakers of immunity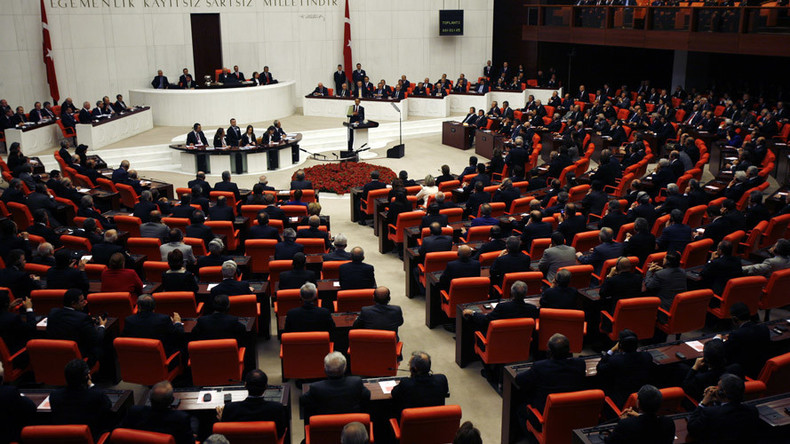 Parliamentary critics of the ongoing crackdown on Kurdish militias, particularly members of the People's Democratic Party (HDP), might be stripped of their immunity from prosecution over their "support to terrorism" under a draft proposal submitted by the Turkish government.
"Turkey is conducting its largest and most comprehensive fight ever against terror, while some lawmakers made statements giving support to terrorism before or after being elected, some gave de facto support and help and some lawmakers called for violence, which created great public disgust," Thursday's draft proposal said, according to Reuters.
All 316 lawmakers from Turkey's ruling Justice and Development Party (AKP) reportedly signed the proposal. The collection of signatures was initiated last week in favor of an amendment to the Constitution's Article 83 that reads "a deputy who is alleged to have committed an offence before or after election shall not be detained, interrogated, arrested or tried unless the General Assembly decides otherwise."
Turkish President Tayyip Erdogan has repeatedly urged for the prosecution of his critics, generally from among the ranks of pro-Kurdish HDP members, accusing them of being a political umbrella for the Kurdistan Workers' Party outlawed by Ankara. Intolerant to any public criticism of his policies, Erdogan even submitted a personal complaint against a German comedian for libel.
Meanwhile Prime Minister Ahmet Davutoğlu claimed that the move to strip MPs of their immunity is aimed at "so-called lawmakers who lend support to terror and terrorists," in an apparent reference to HDP members.
Currently the third largest party in the parliament, the HDP grabbed 59 seats in last year's election. At the same time more than half of roughly 550 parliamentary complaints urging for the revocation of immunity were filed against HDP members.
Lawmakers in Turkey are protected from prosecution, however back in 1994, amid the previous escalation of the conflict with Kurds, several opposition MPs were stripped of immunity, and four of them landed in jail for a decade.
The current military campaign began in mid-2015, after Ankara ended a two-year ceasefire agreement and revived a conflict that has claimed more than 40,000 lives since 1984. Since then, the operation has been condemned by European leaders and human rights organizations. RT also launched a petition urging the UN to investigate claims of alleged mass killing of Kurdish civilians.
Kurdish militants are fighting for the right to self-determination and greater autonomy for Kurds – demands which Ankara rejects. Since July, almost 400 soldiers and police and several thousand militants have been killed in the conflict, according to government figures. Opposition parties say up to 1,000 of those killed in the crackdown were Kurdish civilians.