German MP recites notorious anti-Erdogan poem in front of Bundestag (VIDEO)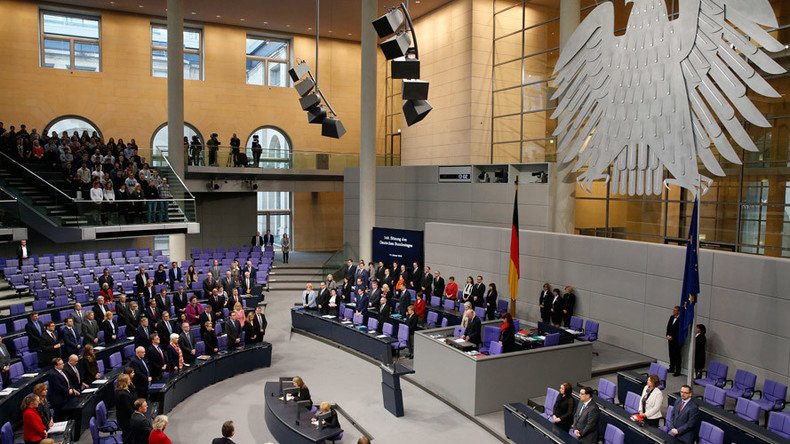 Germany's parliament was shocked when one MP read aloud a notorious poem about Turkey's president which sparked an international free speech row last month. His performance was aired on national TV. He said the aim had been to show how "awful" it was.
The poem about Turkish President Recep Tayyip Erdogan gained an audience in the Bundestag when Detlef Seif, a member of Chancellor Angela Merkel's CDU party recited the entire text standing at the pulpit.
"Unbelievable," the audience gasped in awe when Seit began to recite the text.
It turns out, Detlef Seit meant no harm to the Turkish leader. Instead, according to Seit, he wanted to illustrate how awful the text was, claiming that he had been absolutely disgusted by it.
"I didn't want to do this, but I read this to you so that one knows what was actually said here," Seif said according to German media. "A person's honor is clearly infringed upon here."
Legislators were taken aback and lashed out at the MP.
Renate Kunast, MP for the Green Party, said she was "very embarrassed" for parliament and wondered what had got into Seit to make him act in such a way. Christian Flisek of the Social Democrats (SPD) said "he could have saved the quoting of the poem for himself."
House Speaker Edelgard Bulmahn said that when speaking politicians should remember at all times they are in the German parliament and that "even with quotations one should not forget about it," German media reported.
READ MORE:'Merkel threw me to a despot': German comedian fights back against probe for insulting Erdogan
Luckily for Seif, as an MP he is "immune" to prosecution should Erdogan choose to initiate legal action against him. But the author of the poem, Jan Bohmermann, whose prosecution was recently approved by Chancellor Angela Merkel, insists that the same standards should apply to the politician.
"I hereby request the lifting of parliamentary immunity of CDU MP Detlef Seif for prosecution under paragraph 103 of the penal code," Bohmermann wrote on Twitter.
Ich beantrage hiermit die Aufhebung der Immunität des CDU-Abgeordneten Detlef Seif wegen Verstoßes gg. §103 StGB.

— Jan Böhmermann (@janboehm) 12 мая 2016 г.
Seit complained to Bild that "the reaction of Jan Bohmermann is a bit too thin-skinned."
"From conversations with many citizens I know that the abusive poem written by Bohmermann has been known only in parts. However, in order to be able to form an opinion as to whether such formulations can be called artistic freedom, you have to know the whole poem. I did not defend Mr. Erdogan, but only contributed to the discussion," Seit told Bild.
Meanwhile Erdogan's lawyer Ralf Hoecker said that there were no grounds for the Turkish President to file a complaint, since Seit's speech was a "perfectly legal" and "good example" of how to voice bad content without insulting anyone.
READ MORE: German court rejects Erdogan's attempt to shut up critical publisher
In March, German comedian Jan Bohmermann recited the poem, in which he stated that the Turkish President had an inclination to zoophilia and enjoyed watching child pornography. In response, Erdogan requested that the German government prosecute the comic. Chancellor Angela Merkel complied with the request and greenlighted the proceedings for which she has received strong condemnation from the general public who were wary that she had been compromising freedom of speech.
You can share this story on social media: