'Merkel threw me to a despot': German comedian fights back against probe for insulting Erdogan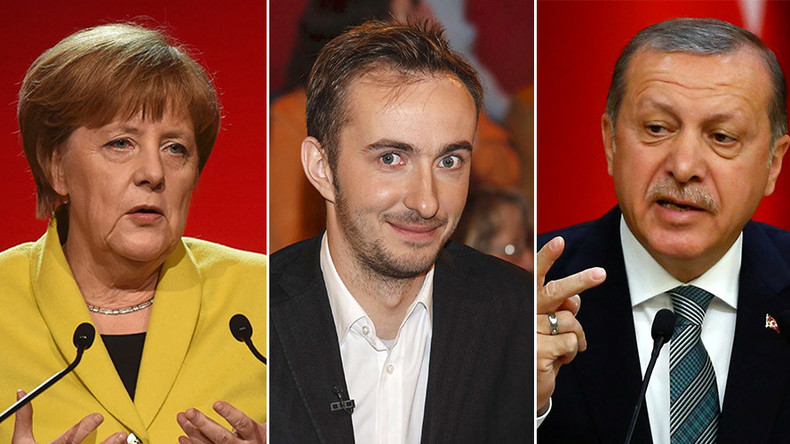 The German comedian who made headlines and landed himself under investigation for "insulting" Turkish President Tayyip Erdogan has accused German Chancellor of "filleting" him and serving him up as a snack for "despot" Erdogan.
These are the first public comments by satirist Jan Boehmermann since the German prosecutors allowed the Turks to slap him with charges. That was after the comedian recited a satirical poem on TV in March that talked of Erdogan's penchant for sex with animals and child pornography.
Erdogan did not take kindly to that. And being a political ally of German Chancellor Angela Merkel, especially on the issue of migration, it was a touchy situation between the two.
The crux of the matter is that the German constitution does consider Boehmermann's actions a crime; however, only the German government can decide whether to allow such a person to be prosecuted. Also, it didn't help that Merkel had described his poem to the Turkish side as "deliberately insulting," – something she later admitted regretting.
In an interview to Die Zeit published Wednesday, the comedian sharp criticized the Chancellor's inability to defend her countryman.
"The chancellor must not budge when it's a matter of freedom of opinion," the TV personality told the German paper. "But instead, she filleted me, served me for tea to a highly strung despot and made me into a German Ai Weiwei."
The Turkish deal with the EU to receive and redirect illegally arriving refugees to Europe is right now considered to be a saving grace – especially since many there also criticize the bloc of only worrying about its own refugee situation, and not the outside world. The other elephant in the room is Turkey and its human rights track record. Organizations and politicians alike have expressed opposition to the idea that Turkey is an "acceptable third country" to accept vulnerable ethnic minorities.
Joining Boehmermann were other critics, who claim Merkel is being held hostage by the deal with Turkey, and therefore closes her eyes to Ankara's conduct. German prosecutors say it's unclear when a decision will be made on whether to go ahead with prosecuting the satirist.
You can share this story on social media: