Turkish army fires at journalists filming anti-Kurd op from Syria – report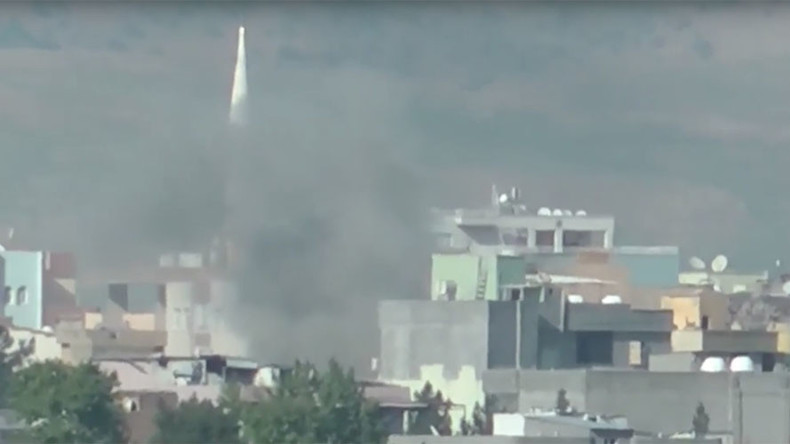 A group of journalists in Syria are claiming they have been fired on by the Turkish army while filming a military operation in a Turkish border town from the Syrian side.
Freelance reporters were in the Syrian town of Qamishli, filming an army operation in Nusaybin – a Turkish town several hundred meters away from their position.
The footage they gathered on Tuesday allegedly shows the Turkish army shelling Nusaybin, the population of which is predominately Kurdish. In the video, plumes of black smoke can be seen rising high above the town's buildings, with sounds of explosions being heard in the distance. Army vehicles and tanks reportedly belonging to Turkey can be seen roaming the streets of Nusaybin.
The journalists, who are said to be part of the Kurdish "Free Communication Units," claim they then came under fire in what they believe to be a deliberate attack from the Turkish side.
"We launched the 'No More Silence' campaign along with all the journalists of Rojava [region in northern Syria, also known as Syrian Kurdistan]. During the third day of the campaign, we went on the border between Qamishli and Nusaybin to film the bombing, so the Turkish army fired on us while we were filming," freelance journalist Rodi Tarur, involved in the capturing of the footage, told Ruptly.
READ MORE: 4 Kurdish civilians killed after home shelled by Turkish army in anti-PKK operation - reports
He added that "all European journalists who remain silent about what's happening are complicit."
Ankara is engaged in fighting Kurdistan Workers' Party (PKK) militants in the region. The Turkish army is allegedly conducting a heavy shelling operation on Nusaybin, which has been under curfew for more than three weeks, Ruptly reported. Last week, two police officers were killed and 35 people injured in a car bomb and rocket attack in Nusaybin. Officials in the surrounding Mardin region in Turkey's southeast blamed the PKK for the attack.