Lives shattered, homes destroyed: Ankara's anti-Kurd military op mapped out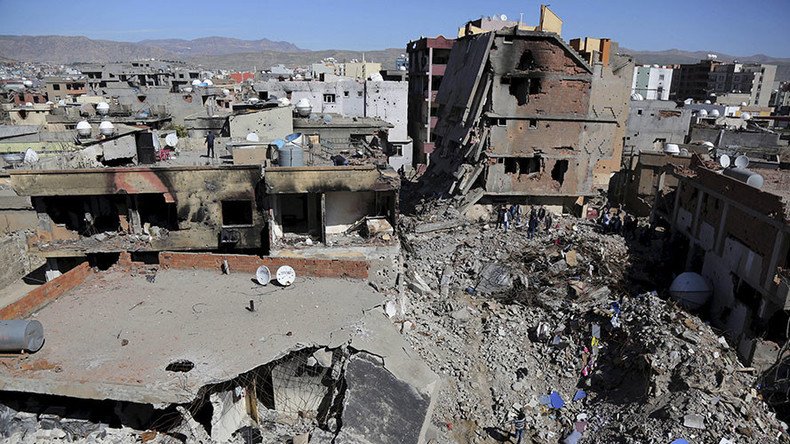 People killed in crossfire, burned alive in basements. Tanks in the streets and indefinite curfews – Kurds in Turkey's southeast have been living a nightmare ever since Ankara started a crackdown on Kurdistan Workers Party (PKK) militants in August 2015.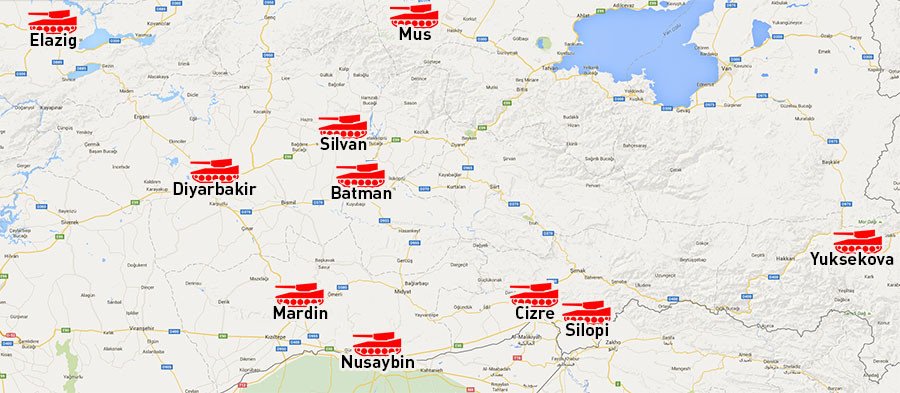 The map is based on a report by the Human Rights Foundation of Turkey from January 2016. It recorded curfews in Turkey's south-east between August 16, 2015 and January 21,2016.
Devastation & despair in Diyarbakir
The second-largest city in southeastern Turkey with highly-developed infrastructure, Diyarbakir is gradually becoming a city of the dead and missing. The unofficial capital of the Kurdish area of Turkey, the city has seen repeated shelling since July 2015. It was placed under two curfews in December.
On March 16, following clashes between Kurdish militants and Turkish forces, Ankara once again imposed an indefinite curfew in some parts of the city.
Ever since the military operations were launched in the city, "tens of thousands" of people have been forced to flee their homes, according to reports from Republican Peoples Party (CHP) said.
Earlier in March, RT's William Whiteman went to Diyarbakir to film testimonies of those mourning their loved ones lost as a result of the ongoing crackdown.
One of the most severely shelled areas of the city has become Sur district surrounded by UNESCO-listed Roman-era walls.
Whiteman spoke to the weeping mother of 17-year-old Rozerin Cukur, who was killed in a military bombardment of Sur while she was visiting the district with friends in early January. With access to the area now cut off by the fighting, her body has never been recovered.
"We saw the news of her death reported on state TV and the internet. The reports included Rozerin's ID information, discovered beside her body," her father, Mustafa, told RT.
Human rights groups, including HRW, reported of scores of civilians killed since July 2015. Among the dead and the wounded are children and women. Many of the corpses were so badly injured that it was impossible to recognize the bodies.
"Of the bodies that have been recovered, parts of their flesh and internal organs had been eaten by a stray dog," Mustafa said. "The bodies were riddled with thousands of bullet holes. It seems that the military continued to shoot them long after they were dead…They were only identifiable through DNA testing."
Cizre massacre
Blood-chilling accounts of a brutal massacre of dozens of Kurdish civilians in the southeastern Turkish town of Cizre were gathered by Whiteman following reports of Turkish troops slaughtering hundreds of civilians trapped in the basements of Cizre, in Turkey's Sirnak province.
The RT correspondent spoke to witnesses who survived the military offensive and showed the exact place of the mass killing.
"I wouldn't wish this on anyone. [Turkish President] Erdogan has destroyed our world. He has burned us," one female witness said. "Three, four – maybe five hundred people. There were old people, women and children – some as young as 10 years old. They killed a heavily-pregnant woman."
Haunted by a strong smell of decomposing bodies, Whiteman managed to find a building whose basement has served as a mass grave. Between 45 and 50 people were burned alive there, according to a local woman. The pro-Kurdish Peoples' Democratic Party claimed over 150 people "have been burned alive."
"They [Turkish forces] burned all of them. When we entered this basement we found decapitated bodies," the witness told Whiteman. "They burned them and beheaded them."
In September, Ankara blockaded the city and placed it under curfew for eight days. In December, Turkish authorities renewed the curfew until February 12, however, according to locals it ended on March 1.
Amnesty International's researcher on Turkey Andrew Gardner accused Ankara of ignoring desperate pleas of injured residents of the town.
"The refusal of the Turkish authorities to ensure access to medical care is indefensible. While it is perfectly legitimate for them to take measures to ensure security and arrest suspects, this operation shows a callous disregard for human life," said Gardner.
In January a disturbing video emerged allegedly showing Turkish troops shooting of Kurdish civilians who were waving white flag in Cizre.
The series of short video clips published on social media showed a procession of people going along a street, pushing a cart with what appears to be two covered bodies. The walls of the buildings are dotted with holes, possibly from bullets. A tank is shown in the distance. Then, gunfire can be heard as the people hunker down and run for cover.
Tanks & raids in Silopi
To show off its power, the Turkish Army decided to send tanks into civilian areas in another town in Sirnak province – Silopi. In December Turkish authorities placed the town under 'curfew' between December 14, 2015, and January 4, 2016.
Local activists posted frightening photos on social media in an effort to draw mass media attention to the plight of local citizens in the predominantly Kurdish southeast.
"Turkish tanks on the streets of Silopi, Kurdistan. They are attacking Kurdish civilians, not ISIS [Islamic State or IS]," one Kurdish activist wrote on Twitter. The People's Democracy Party (HDP) published a series of photos of what is said to be another raid by the Turkish Army.
According to HDP, soldiers in the Yenisehir district of Silopi "broke into a building and pointed guns at people."
A Silopi resident told Amnesty International that his relative was killed in his home during the crackdown. His family "waited 12 days with the decomposing body in their home before it could be collected for burial," the group said.
The residents told the group that the almost the whole December they lived without access to electricity and water during curfew.
Haunted residents of Nusaybin
The town of Nusaybin, Mardin Province, which borders Syria, has also seen curfews in recent months.
In November several people were killed "from shrapnel wounds" during the curfew, according to officials, while local groups spoke of dozens of killed and injured.
When the authorities decided to repeat the curfew in March 13 for an indefinite period of time, the local residents fearing for their lives hurried to leave the town. Several military vehicles were noticed parked at a local school ahead of the planned offensive.
Indefinite curfew in Yuksekova
On March 13, the Turkish military put one more 'flag' on the curfew map of southeastern Turkey – the town of Yuksekova, Hakkari Province, on the border with Iran. About 70,000 people live in the town, according to a 2012 census.
The civilians were banned from entering and leaving the city and numerous social media reports claimed that vehicles carrying military personnel are heading to the town.
You can share this story on social media: