Putin invites Qatari leader to Moscow as MidEast diplomacy intensifies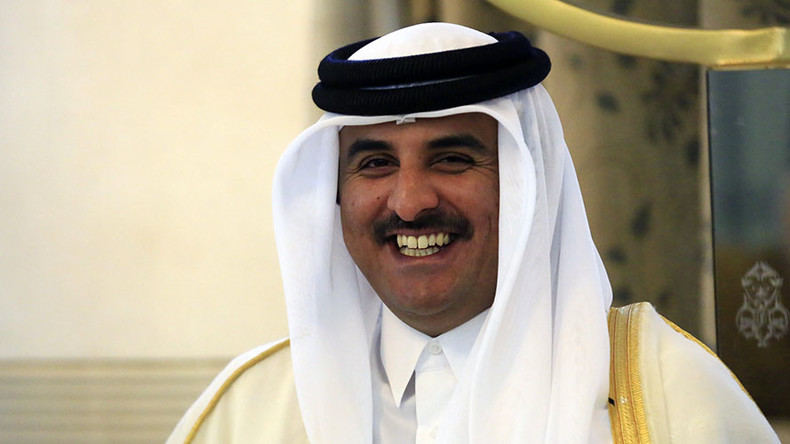 The Emir of Qatar is set to arrive in the Russian capital early next week to hold talks on the current situation in the Middle East and North Africa. The high-level negotiations will also focus on energy issues at a time of falling global oil and gas prices.
Qatari emir Tamim bin Hamad Al Thani's first official visit to Russia on January 18-19 has been organized at the behest of President Vladimir Putin, who will meet the Qatari leader on Monday, January 18.
"The talks will focus primarily on comprehensive development of trade and economy, investment, energy sector, and humanitarian cooperation between Russia and Qatar. The two leaders will have a detailed exchange of views on current international affairs, particularly the situation in the Middle East and North Africa," the Kremlin's official website reports.
Thani's visit comes a month after Qatari Foreign Minister Khalid Bin Mohammed Attiyah met his Russian counterpart, Sergey Lavrov, in Moscow to discuss a range of bilateral and international issues.
Russian Energy Minister Aleksandr Novak, who co-chairs the Russian-Qatari trade and economic cooperation development committee, said that so far attempts to attract Qatari investment in joint projects have not been successful.
Although Moscow and Doha do interact on gas industry issues through the Gas Exporting Countries Forum, "there are no specific projects being executed on either Russian or Qatari territory," Novak said.
Although Russia and Qatar are direct rivals in the international gas market, the volumes of liquefied natural gas (LNG) to be produced in Russia's LNG projects like Yamal are not likely to interfere with Qatar's market share in Europe, Aleksey Grivach, deputy head of the Russian National Energy Security Fund, said in an interview with RIA Novosti.
"Qatar might offer some concessions in the energy sphere in return for concessions from our side," Grivach said, adding that in his opinion any progress will be heavily dependent on political issues.
Over the last month, Moscow has been a center for shuttle diplomacy with Middle Eastern and Gulf States representatives holding a string of meetings with the Russian president and ministers.
On Thursday, President Putin discussed fighting terrorism with King Abdullah II of Jordan, who visited Russia in August and November 2015.
On the sidelines of a gas summit in Tehran, Putin met with, among many others, Iranian President Hassan Rouhani and Supreme Leader Ali Khamenei.
In mid-November, Putin met with Salman bin Abdulaziz Al Saud, the King of Saudi Arabia, on the sidelines of the G20 summit in Antalya, Turkey, where the Russian president accused 40 countries, "some of them G20 members," of financing Islamic State terrorists.
On November 10, the Emir of Kuwait met with President Putin in Sochi.
And on October 20, Vladimir Putin welcomed Syrian President Bashar Assad in Moscow, conducting lengthy negotiations, which then continued in the presence of Russia's top policymakers.
Earlier in October, the Russian president met in Sochi with Saudi Arabia's defense minister Sheikh Mohammed bin Salman, confirming similar goals concerning Syria.
Also in Sochi, Vladimir Putin discussed the fight against international terrorism with Abu Dhabi Crown Prince Sheikh Mohamed bin Zayed Al Nahyan.
Ahead of launching the Russian Air Force operation against ISIS in Syria, Russia's leader held short talks with Iraqi Prime Minister Haider al-Abadi. Iraq, Syria and Russia united in fight against Islamic State, exchanging intelligence on a daily basis.
In late August, following talks in Moscow between President Vladimir Putin and his Egyptian counterpart Abdel el-Sisi, Cairo praised support to the creation of a broad anti-terrorist coalition to fight Islamic State.
Vladimir Putin is also holing regular personal and phone contacts with Israeli Prime Minister Benjamin Netanyahu.
You can share this story on social media: