Qatar wedges in Saudi-Iranian diplomatic rift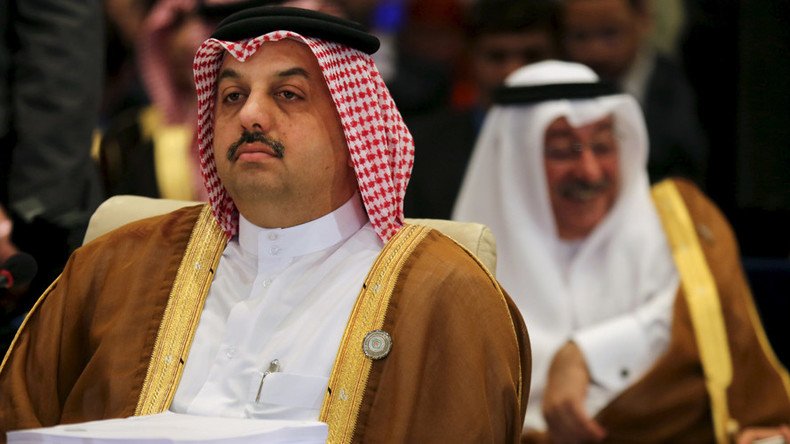 Qatar has recalled its ambassador to Tehran, becoming the latest contributor to a growing Saudi-Iranian rift over the killing of Saudi Shiite leader Sheikh Nimr al-Nimr in the kingdom's latest mass executions and subsequent violent protests in Iran.
"Qatari Ministry of Foreign Affairs recalled today Qatar's Ambassador to Tehran following the attacks on the Embassy of the Kingdom of Saudi Arabia in Tehran and general consulate in Mashhad," said Director of Asian affairs department at the Qatari foreign ministry, Khalid bin Ibrahim Al Hamar.
Qatar has also handed over a protest note to the Iranian embassy in Doha, over the attacks that according to a foreign ministry statement constitute a "violation of the international charters and norms that emphasize the protection of diplomatic missions and their staff."
Sheikh Nimr was among 47 people beheaded or shot by firing squad across Saudi Arabia on Saturday – the largest number of individuals executed in a single day since 1980. The Shiite cleric's death sparked massive outcry across theShiite Muslim world with demonstrations igniting in many countries in the region.
The historic Saudi Arabian foe in the region, Iran, where over 90 percent are Shiite, held massive demonstrations with protesters storming and setting fire to the Saudi embassy in Tehran in addition to the kingdom's consulate in the second city, Mashhad.
Following the assault on the Saudi diplomatic mission, Saudi Arabia immediately severed ties with Tehran, uniting Sunni Arab allies in the region against Iran. Kuwait, Bahrain and Sudan have also recalled their ambassadors from the Islamic Republic.
The United Arab Emirates downgraded relations with Iran. Jordan summoned Tehran's envoy to protest the attacks on Saudi missions. Even the tiny African nation of Djibouti, joined in with the regional tensions and has halted diplomatic ties with Tehran.
"Djibouti cut its diplomatic ties with Iran out of solidarity with Saudi Arabia," Djiboutian Foreign Minister Mahamoud Ali Youssouf said on Wednesday.
As Iranian diplomats from Riyadh and its consulate in Jeddah flew home Wednesday, Iran's Foreign Minister Mohammad Javad Zarif called on Saudi Arabia to stop confronting Iran.
"This trend of creating tension must stop. We need to stand united ... and stop those who are adding fuel to the fire," he said.
Zarif said that Saudi Arabia has been "opposing" Iran's diplomacy in the region for the last for two-and-a-half years, accusing Riyadh of "taking measures against the Iranian people" by artificially keeping the oil prices low and opposing the historic nuclear agreement.
You can share this story on social media: