Saudi-Iranian row: Consequences & who could benefit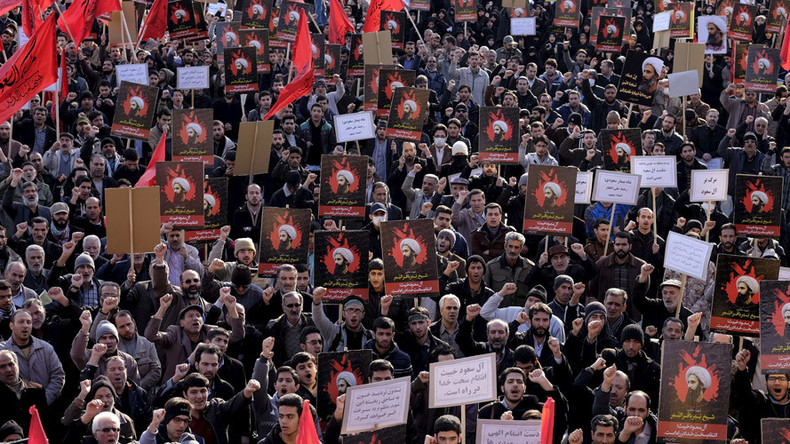 How far can the latest crisis in Saudi-Iranian relations go? Are we seeing opening salvos of a new religious war, or is it a political spat? How will this crisis affect the situation in the region? RT asked the experts.
READ MORE: Kuwait recalls ambassador, Bahrain halts all flights to & from Iran over Saudi mission attack
"It's not so much a religious war as a fight for power," Gregory Copley, President of International Strategic Studies Association, said. "The Saudis took this step based on months of pressure, which has been building up for the leadership to show its Wahhabis credentials; the pressure has been coming from internal Wahhabi dissidents as well as from ISIS people," he said.
Despite the fact that the new Saudi government "was helped into existence by US President Obama," Riyadh is now preventing Washington from getting involved in the process of settling the situation. Relations between the US and Saudi Arabia are now "at a minimal level, once again" and currently "there's no major external power able to exercise serious influence on Saudi Arabia at this point."
"We've got a real division there and the only ones who are going to benefit from that – or try to take it to their advantage – are the Turks," Copley told RT.
Soraya Sepahpour-Ulrich, an independent researcher, says Saudi Arabia is "without a doubt" pouring fuel on the fire. She is confident Riyadh would not do so without approval from "its backers, the US and Israel."
She noted: "What the US says and what it does are two different things. I refuse to accept what is [said] for public consumption versus the real actions."
In December, the Saudi and Iranian foreign ministers both took part in a high-level meeting in New York to talk about the Syrian crisis.
Asked whether the latest escalation between Tehran and Riyadh would put the Syrian peace push in jeopardy, the expert said: "It would be naïve to believe the Saudis ever wanted peace; they were the ones who supported the terrorists."
Meir Javedanfar, a Middle East commentator, said Riyadh's decision to cut ties with Tehran came as a surprise move.
"Iran and Saudi Arabia have been going through a number of very difficult milestones in their relationship, which could be best described as an 'abusive relationship' since 1979. But at no point did either side sever relations as we see today," he said.
A direct confrontation between the two nations is unlikely, Javedanfar said. However, the region is going to become "even more unstable" and finding a solution for Syria "even more difficult."
"The Saudis are trying to send a message to their domestic audience that they are still strong in Yemen, they are still strong in terms of standing up to the Iranians and the Saudis are hoping that this will win them more votes and more support from the Sunni conservatives, the Wahhabis in Saudi Arabia," he told RT.
The statements, views and opinions expressed in this column are solely those of the author and do not necessarily represent those of RT.
You can share this story on social media: