Emir of Kuwait to talk Middle East with Putin in Moscow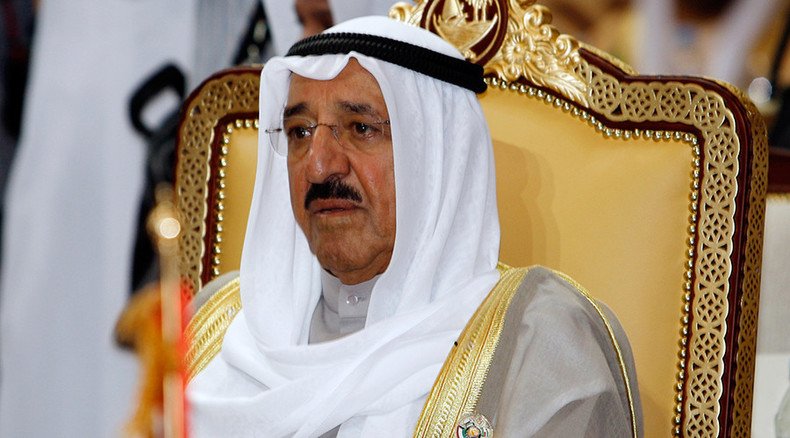 The Emir of Kuwait will arrive in Russia next week to meet with President Vladimir Putin in Sochi, becoming yet another leader from the Middle East, including Syria's Assad and Israel's Netanyahu, to visit Russia lately to discuss the situation in the region.
"On November 10 in Sochi, talks between President Putin and Sabah Al-Ahmad Al-Jaber Al-Sabah will take place, during which it's planned to discuss key aspects of the Russian-Kuwaiti cooperation. Priority will be given to the expansion of bilateral cooperation in trade and economic sphere," the Kremlin said in a statement.
READ MORE: Putin and Saudi defense minister meet in Russia, agree on common goals in Syria
The two heads of state will also discuss the situation in the Middle East and North Africa, the statement added.
According to the Kremlin, the Emir of Kuwait will be visiting Russia from November 10 to 11 at the invitation of President Putin.
Commenting on the bombing of a Shia mosque in Saudi Arabia, Al-Sabah said last week that "the Islamic countries have a great responsibility in fighting such thing as terrorism, which threatens the security of our countries."
Russia launched a large-scale air campaign against Islamic State (IS, formerly ISIS/ISIL), Jabhat al-Nusra, and other terror groups in Syria on September 30 after a request from the country's president, Bashar Assad.
The move made Russia one of the key players in the region and has prompted top officials from Middle Eastern and North African states to flock to the country for talks.
On October 20, Assad paid an unannounced visit to Moscow to personally thank Putin for Russia's military assistance, saying "terrorists would have occupied far greater territories" in Syria without it.
The US and Turkey, which are pushing for regime change in Syria, condemned the trip, with the White House saying it viewed "the red carpet welcome for Assad, who has used chemical weapons against his own people, as at odds with the stated goal by the Russians for a political transition in Syria."
In another meeting with a Middle Eastern leader, the Russian president discussed Syria with Saudi Arabia's defense minister, Sheikh Mohammed bin Salman, on the sidelines of a Formula 1 race in Sochi on October 11.
Moscow and Riyadh agreed that they share a common goal in Syria, which is "to prevent a terrorist caliphate from getting the upper hand" in the war-torn country.

Putin said that he understood Saudi concerns about Russian airstrikes targeting the so-called 'moderate opposition' in Syria and expressed readiness to cooperate and share intelligence.
In another visit concerning the Middle East shortly before the beginning of Russian airstrikes, Israeli PM Benjamin Netanyahu landed in Moscow to impress upon Putin the need for a "more honest information exchange and coordination between Russia and Israel" in their actions in Syria.

During the talks, Putin assured Netanyahu – who is known as a strong opponent of Assad – that Syrian government troops were no threat to Israel as they were too busy protecting their own country from terrorists.
READ MORE: Russia and Israel agree to 'more honest' exchange of information on Syria - Kremlin
In addition, the Russian president welcomed King Abdullah of Jordan, Egyptian President Abdel Fattah al-Sisi, and Abu Dhabi's Crown Prince Sheikh Mohammed bin Zayed al-Nahyan to Moscow for talks in August, with Syria topping the agenda.
You can share this story on social media: