Putin and Saudi defense minister meet in Russia, agree on common goals in Syria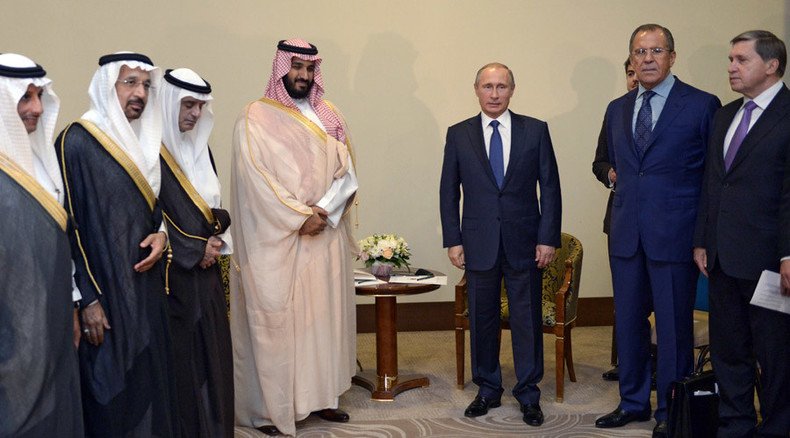 Russian President Vladimir Putin and Saudi Arabia's defense minister have agreed that Moscow and Riyadh should pursue common goals in Syria, including national reconciliation and combating terrorists, Russian FM Sergey Lavrov said.
Putin met with Sheikh Mohammed bin Salman for talks on the sidelines of a Formula 1 race in Sochi on Sunday. The meeting was also attended by the foreign ministers of both states.
"The sides confirmed that Saudi Arabia and Russia have similar goals concerning Syria," said Russian FM Sergey Lavrov following the talks. "First of all, they are to prevent a terrorist caliphate from getting the upper hand in Syria."
The second goal that we share with Riyadh is "ensuring the triumph of national reconciliation in Syria so that all Syrians, regardless of their nationality or religion, will feel masters of their land," he said.
Saudi Arabia's FM, Adel al-Jubeir, expressed Riyadh's concerns about the targets of Russia's military operations in Syria. In turn, Putin said Moscow understands the Saudi's concern and expressed readiness to cooperate and share intelligence, according to Lavrov.
READ MORE:Putin: Russia has no intention of mounting Syria ground operation, wants to see political compromise
"On our part, we expressed readiness, which was met with a positive response from the successor to the Crown Prince, to begin close cooperation between our militaries, and security services in order to eliminate any doubts that the targets of the Russian Air Force are ISIS militants, al-Nusra Front, and other terrorist organizations," he said.
During the talks, Saudi Arabia expressed readiness to intensify its efforts to cooperate with Russia with regard to anti-terrorist operations, al-Jubeir said.
Though sharing views on reaching a speedy political resolution in Syria, Russia and Saudi Arabia have different stances with regard to President Bashar Assad's future as president. Russia has reiterated that Assad should remain in power, Lavrov said, adding that this does not prevent launching a process for resolving political differences. Riyadh believes that Assad must step down for there to be a political transition in Syria, al-Jubeir said.
Lavrov said that Russia calls on "all external players who can influence political processes in Syria to promote the soonest launch of a nationwide dialogue in Syria."
He added that, after the talks between the two sides in Sochi, "we have a much clearer vision of how to move along the path of political settlement."
Moscow and Riyadh also confirmed that there were a number of opportunities for bilateral cooperation in different areas, including the military-technical sphere, Lavrov said. "The parties stated the existence of very good opportunities in various fields, including economic investment, and military-technical cooperation. Corresponding plans will be implemented."
LISTEN MORE:

You can share this story on social media: