Putin: Russia has no intention of mounting Syria ground operation, wants to see political compromise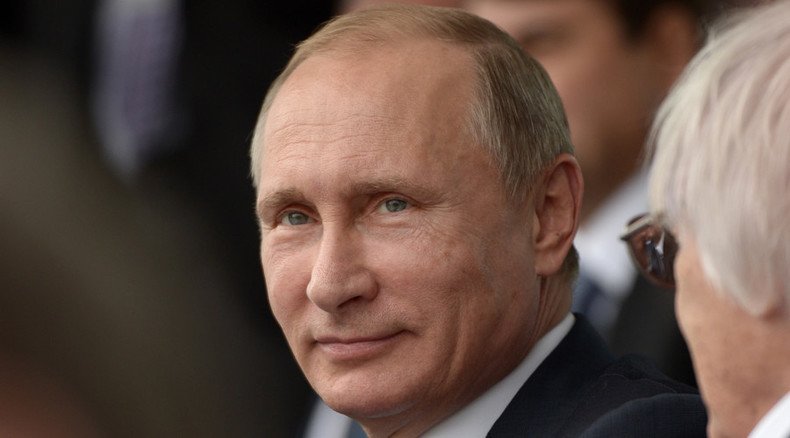 Using ground troops in Syria is out of the question, the Russian president said in an interview with Rossiya 1 TV. Russia's air operation has been thoroughly prepared and is aimed merely at aiding the Syrian Army's offensive, he said.
"Whatever happens, we're not going to do this [ground operation] and our Syrian friends are well aware of it," President Vladimir Putin said in an interview with Russian TV anchor Vladimir Solovyov.
The primary task of the Russian operation in Syria is "stabilizing the legitimate authority in this country and creating conditions to look for political compromise," President Putin said.
The Russian leader specifically stressed that Moscow had notified the Western coalition when it began the operation in Syria.
"We advised beforehand our American partners and many other partners, particularly those in the [Syrian] region, about our intentions and our plans," Putin said, specifically stressing that "never ever Russia was warned about similar operations being planned or launched."
"Yet we did so. With good will, on considerations of practicability and to show our openness for cooperative work," Putin said.
"I want to stress once again that we are acting in full compliance with international law, and at the request of the official authorities of Syria," he added.
Moscow does not lose hope that other countries will join the Russian operation in Syria, Putin said, pointing out that at the moment Russia began its operation against Islamic State there were 11 countries already staging airstrikes on Syrian territory.
The Russian operation in Syria was not spontaneous and was preceded by detailed satellite and airborne surveillance, Putin said, noting that experts from the Russian Joint Staff in coordination with their Syrian partners and other countries in the region had created an information center in Baghdad to exchange reconnaissance data.
"Therefore, whatever happens in the air and on the ground is not a spontaneous action, but the realization of prescheduled plans," President Putin said.
The chances to reach a domestic political compromise in Syria will be higher if the Syrian Army proves its combativity, he said.
"If the Syrian Army proves its viability and readiness to fight terrorism, than the probability of reaching a political compromise will be much higher," Putin said, confirming that a Russian military operation in Syria would is be limited to the offensive operation of the Syrian Army.
Commenting on the cruise missile strike conducted by the Russian Navy from the Caspian Sea against Islamic State positions in Syria being a surprise for US intelligence, Vladimir Putin said it' wasn't the time to throw brickbats at the American intelligence community.
"American intelligence is one of the most powerful in the world, yet it does not know everything – and should not for that matter," Putin said. The Russian president also said he's perplexed as to why the US refused to share with Russia intelligence on the whereabouts of Islamic State's installations.
Russian military experts have already appealed to the Pentagon with proposals regarding the fight against terrorists in Syria, President Putin said.
"Some of Russia's missile strike systems are outdated so extensive rearmament with high-tech precision weapons is on its way," Vladimir Putin said, stressing that, if threatened, Russia would make use of its most sophisticated weapons to maintain national security.
However, he also added that "Russian foreign policy is truly peaceful, without any exaggeration."
"If you take a look at the political world map and see what Russia is, it becomes evident that we don't need neither foreign territories, nor natural resources. We've got everything in abundance. We're a self-sufficient country," President Putin told the TV anchor, adding that Russia seeks neither to wage war nor conflict in any country.
Russia has no intention of creating an empire or reconstructing of the Soviet Union, yet "we must defend our independence and sovereignty," Putin stressed. "We've done it before, we are going to do it in future."
LISTEN MORE:


You can share this story on social media: