Intercepted ISIS comms show 'growing panic' after Russian airstrikes - combat report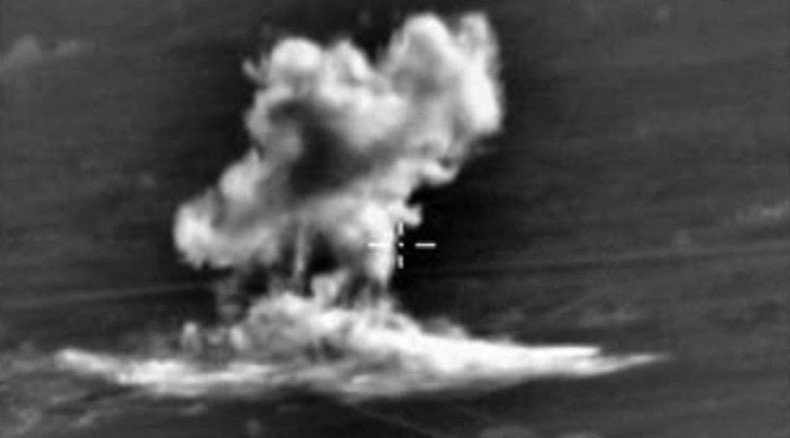 Russian Air Forces have extended the range of their airstrikes on Islamic State positions in Syria to four provinces, focusing primarily on demolishing fortified installations and eliminating supply bases and the terrorists' infrastructure.
Over the last 24 hours Russian aircraft have attacked terrorist positions in the Hama, Idlib, Latakia and Raqqa provinces of Syria. In total, 64 sorties targeted 63 Islamic State installations, among them 53 fortified zones, 7 arms depots, 4 training camps and a command post.
The airstrikes were carried out by Sukhoi Su24M and Su-34 bombers and Su-25SM assault aircraft, with Sukhoi Su-30 fighter jets ensuring air escort for the assault groups.
"Having accomplished combat assignments, all aircraft of the task force operating in Syria successfully returned to the Khmeimim airbase," said the spokesperson for the Russian Defense Ministry, Igor Konashenkov.
Radio intercept data has revealed "growing panic" among Islamic State militants, according to Konashenkov. He added that IS field commanders have urged senior staff to expedite supply armament and military equipment, as well as to redeploy reinforcements from Raqqa province as a result of Russia's air bombardment.
In the vicinity of the city of Saraqib in northwest Syria, an artillery position known for inflicting strikes on the nearby residential areas has been exposed and eliminated.
A group of Sukhoi Su-24M bombers attacked a terrorist field headquarters near the village of Salma in northwest Syria. This command post has been coordinating operations of the militants in whole of the Latakia province.
"A direct hit of a guided KAB-500 air bomb completely destroyed a building with militant commanders inside," the Defense Ministry's spokesperson reported. "The airstrike also eliminated five SUVs with ZU-23 double-barreled 23mm anti-aircraft guns mounted on them that were parked nearby."
A Sukhoi Su-24M bomber attacked a thoroughly concealed position of SUVs with mortar launchers mounted on them near the village of Kafer-Delba. As a result of the attack, a mobile sub-artillery battery consisting of four vehicles was eliminated.
Aerial reconnaissance discovered a stronghold of terrorists near the village of Achan. A pinpoint airstrike carried out by Su-24M aircraft eliminated the installation, along with an ammunition and logistics depot.
The Russian Defense Ministry's spokesman, Igor Konashenkov, also said that the Russian and American armed forces have held a second video conference regarding the operation in Syria. The two sides discussed in detail proposals voiced at the first such event and focused on issues of air security to be ensured by both sides, since both US and Russian aircraft are currently operating in Syria's airspace.
The date for the next consultation is to be arranged later.
LISTEN MORE:
You can share this story on social media: