Russian Air Force destroys 29 ISIS camps in Syria in 24 hours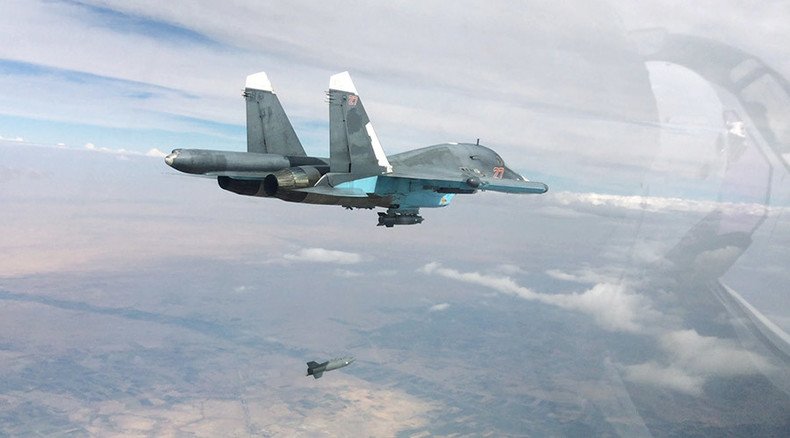 Russian warplanes in Syria have bombed 29 terrorist field camps and other facilities of the militant group Islamic State in the past 24 hours, the Russian Defense Ministry reported.
"Our aviation group over the past day has destroyed two militant command centers, 29 field camps, 23 fortified facilities and several troop positions with military hardware," ministry spokesman Maj. Gen. Igor Konashenkov said Saturday.
The Russian Air Force conducted 64 sorties and hit a total of 55 targets, he said.
He added that the Russian effort has "considerably degraded" the strength of the terrorist forces in Syria.
READ MORE: Russian airstrikes kill 2 ISIS commanders, 300 militants – Defense Ministry
"During the initial phase of the operation, our warplanes have destroyed the biggest and most important supply hubs of ISIL," Konashenkov said, calling Islamic State by its former name. This resulted in the "mobility and offensive capability" of the jihadists being reduced, he said.
The general said signal intelligence reports indicate that the militants are suffering from a shortage of fuel and ammunition after the Russian bombings. "Some of them are demoralized and are actively leaving the battle zone, moving in eastern and northeastern directions," he said.
Konashenkov said that the increasing number of combat missions conducted by Russia in Syria is explained by the large number of potential targets identified and confirmed as viable by space and aerial reconnaissance.
Russia started its bombing campaign in Syria last week with a goal to provide air support to the government troops fighting against various terrorist groups, primarily Islamic State. This allowed Damascus to go on the offensive in Hama province on Friday.
Meanwhile on Saturday, US and Russian defense officials conducted a 90-minute video conference on Saturday to discuss the safety of flight operations over Syria. "The discussions were professional and focused narrowly on the implementation of specific safety procedures. Progress was made during the talks, and the US agreed to another discussion with Russia in the near future," the Pentagon said in a statement.
LISTEN MORE:
You can share this story on social media: