Hockey goals, babushka kisses, and lots of Photoshop on #PutinDay (PHOTOS, VIDEOS)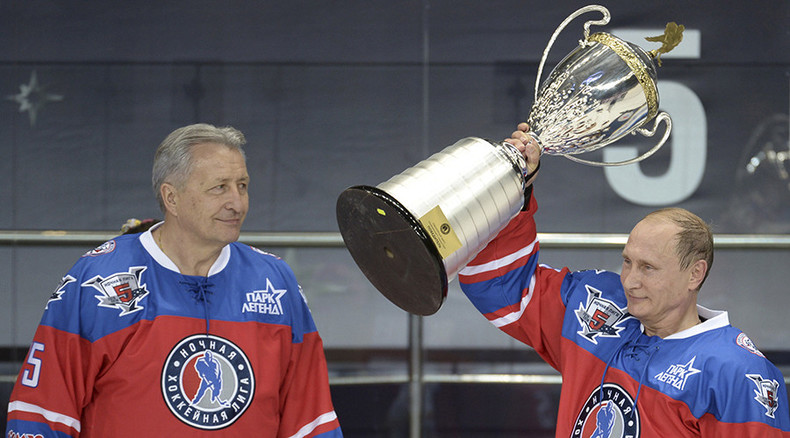 While both lovers and haters of the Russian president tried to outdo one another on Twitter, catapulting the #PutinDay hashtag straight to the top, the man of the day did not waste his time on social media – he went to the ice rink instead.
Unlike PM Dmitry Medvedev, Putin has never been observed hunched over a smart phone. His gadget of choice is a hockey - not a selfie - stick, which he chose to wield to great effect on his 63rd birthday.
Taking to the ice with Russia's Night Hockey League stars in Sochi, the president (playing as number 11) scored seven goals. Now that's a nice birthday treat! (Though, frankly, we wonder here if some secret numerology could have been involved).
As for presents, animals – both wild and cuddly – are probably among the most popular gifts received by the Russian leader.
[Tweet says "Happy Birthday!" in Russian]
Puppies move over! Over the years, Russia's head of state has been presented with leopards from Iran, a Siberian tiger cub, pure-bred Arabian horses from Jordan, and a mini pony from Tatarstan.
[Tweet says "Putin when he learnt #PutinDay tops world hashtags"]
Oh, and not to forget, a goat from former Moscow Mayor Yury Luzhkov – because obviously a president needs his own personal goat.
READ MORE: Putin as Hercules, a 100k human flag and other unusual things for the President's birthday

While some showed off their mastery of Photoshop to send their best wishes to Putin, others did the best they could... but it's the thought that counts, right?
So don't judge others. Better to send your own many happy returns yourself – have you?
[Tweet says: "Who's got bdat today?"]
Because, of course, it's love that's the best gift ever...
READ MORE: Neo, Batman & Buddha are all actually Putin: Crazy expos in Moscow & London (PHOTOS, VIDEO)
...no matter how old you are.
PS: Leave "Happy Birthday" tunes for American presidents – Vladimir Putin received his very own song for his special day. Popular Russian rappers chanted "My best friend is President Putin" in their action packed music video, which accumulated nearly a million likes on YouTube in one day.