Putin as Hercules, a 100k human flag and other unusual things for the President's birthday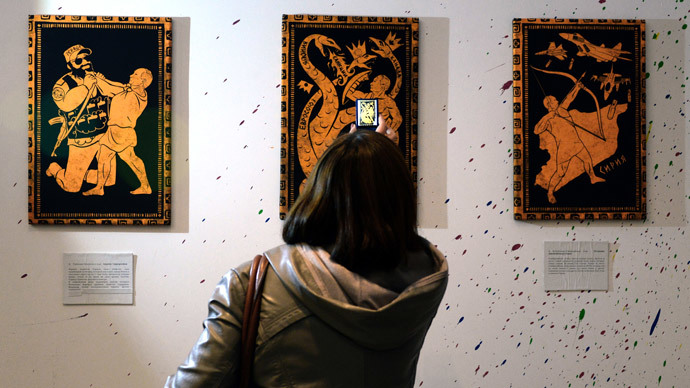 Russia President Vladimir Putin is celebrating his 62nd birthday in Siberia, taking Tuesday off work – his first day off for a birthday in 15 years.
"The head of state has flown to the Siberian taiga where he will rest," presidential spokesman Dmitry Peskov told media on Monday.
Last year, Putin "celebrated" his birthday at the Asia-Pacific Economic Cooperation (APEC) summit in Bali. However, he was kindly gifted a bottle of sake by Japanese President Shinzo Abe and a cake by Chinese President Xi Jinping to mark the occasion.
This year, however, Russia and the world was more extravagant.
Thus, in New York, a new line of sweaters went on sale: One sweater depicted the Russian leader's notable cuddling with a Persian leopard he met in Sochi earlier this year, another horse-riding, and a third carrying the 10-week old puppy Karakachan which was given as a gift in 2010 by his then-Bulgarian-counterpart, Prime Minister Boyko Borisov.
On Monday, to mark the occasion, an exhibit was displayed at Moscow's 'Red October' chocolate factory event space, in which heroic Putin was depicted Grecian-style as Hercules undertaking his twelve labors.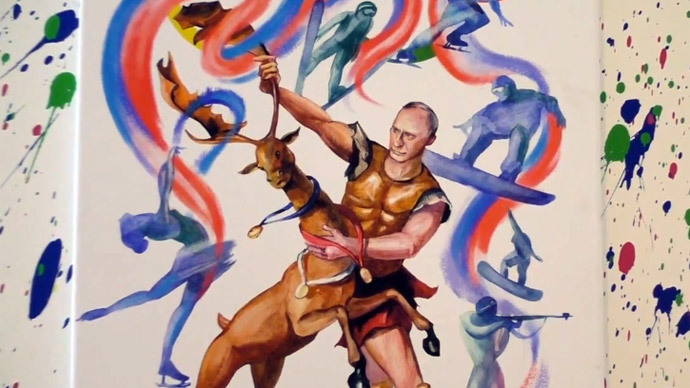 In the pictures, Putin was cutting the head off the hydra, the "Japanese" head of which breathed fire marked "sanctions". The "American" head lay severed under Putin's right leg.
For his 62nd bday, Putin depicted as Hercules. Here, lifting his shield against poisonous sanctions by US, EU, Canada pic.twitter.com/AlAhEnegsJ

— Daniele Hamamdjian (@DHamamdjian) October 7, 2014
In Chechnya, over 100,000 marched dressed in red, white, or blue, in an enormous moving version of the Russian flag to show their gratitude for what Putin has done for the republic.
Seven cities across Russia also shone new graffitis for the occasion. Across each one, the word "Spasibo" (thanks) was spelled out, with each letter creating the first word of a phrase for each building related in some way to one of Putin's achievements: Strength (Sila), Remembrance (Pamyat), Arctic, Sovereignty, History (Istoriya), Safety (Bezopasnost), and the Olympics.