​Jihadi brides: Over 100 German women 'gone to Syria' to join ISIS militants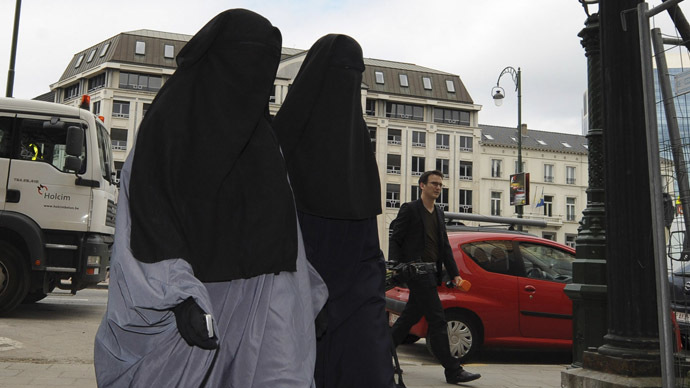 At least 110 women have traveled from Germany to Syria in order to marry Islamic State militants, media have counted. Many are accompanied by their children, which brings an estimated number of the under-age taken out of the country to 36.
German newspaper Augsburger Allgemeine has recently published the results of its own research, assessing the "growing trend" of joining the Islamic State (formerly known as ISIS\ISIL) among Bavarian females.
READ MORE: 19-year old North Carolina man charged for trying to start pro-ISIS guerilla war
In March 2014, the editors of the newspaper created a profile of an imaginary young Muslim woman in social networks, who "liked" radical-Islamic groups and pages with Muslim female clothing, as well as aphorisms. They commented on the posts of German Islamists, who called on young women to go to Syria regardless of their parents' will, with a phrase "mashallah" ("God willed it").
The page got a few friend requests from Syrian militants, however, according to the newspaper, to find a real fiance one should get in touch with an agent first. The "wali" (or "helper") has to be sure that the woman is ready to become a good wife and then puts in a word for her.
Finally, the editors found a 25 year-old man from Berlin, who claimed that he wanted to go to war, but had to get him a proper bride. In a video he said that a candidate shouldn't use any perfume and must wear a niqab. The man turned out to be not the only German jihadist, who was looking for a like-minded wife.
READ MORE: 3 sisters & their 9 children missing, feared to have joined ISIS
"My dear sister, verily, you have an important and significant role. And you have to praise yourself and play your part in the fulfilling the obligation to the Islam in the confrontation with the new Crusade, which all countries of the world lead against the Islam and Muslims," goes a piece from "The role of a woman in combating the enemies", as cited by At-Tibyan Publications, the media of IS.
While parents have no slightest idea, what makes their daughters run away to the Middle East, the girls call themselves "the pearls of Islam" and rush to their "Prince Charming" with a rifle. Moreover, according to the newspaper, the generation of children raised in Germany has more chances to become terrorists in the future – taken to Syria by their parents or through going there by themselves.
READ MORE: 'Revolution within revolution': How and why Kurdish women are fighting ISIS (DOCUMENTARY)
In an April report, the UN estimated the number of foreign fighters from more than 100 countries who joined militant groups such as Islamic State and Al-Qaeda at about 25,000.
Islamic State lures its fighters to marry with a free honeymoon and $1,500 for their first home. Each newborn child brings his or her family $400, an ISIS fighter told AP.
You can share this story on social media: