​ISIS offers fighters free honeymoon, housing bonus, cash to start family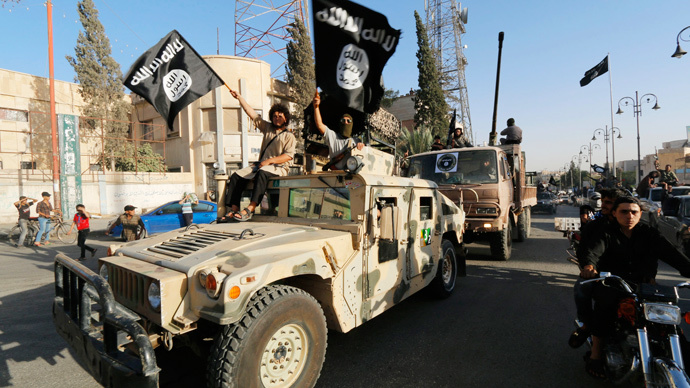 Islamic State fighters looking to tie the knot are in luck – the militants are offering its members a free honeymoon and $1,500 towards their first home. The extremists are also encouraging jihadists to start families, offering a generous $400 per child.
Speaking to AP via Skype, Islamic State (IS, formerly ISIS/ISIL) fighter Abu Bilal al-Homsi talked about the perks he receives from the extremist group.
Homsi is given an allowance for his uniform and clothes, and some household cleaning supplies, as well as a monthly food basket worth $65. In addition, he and his wife each receive a stipend of around $50 each per month.
READ MORE: ISIS rise provoked by outside interference into Middle East, North Africa – Putin
The group encourages its fighters to have children, offering a bonus of up to $400 per child. Foreign fighters are also given a one-time sum of $500 when they marry, which is aimed at helping them start a family.
There's an opportunity for even more cash, but it requires marrying someone with desirable skills.
Homsi, 28, told AP that he received a rather large bonus because his new wife is a doctor and speaks four languages.
Praising his city and the IS, Homsi shared the story of his wedding and honeymoon, both of which took place in the IS stronghold of Raqqa.
Though the city may not seem like an obvious place to say 'I do', he insists it has everything two lovebirds could possibly want.
After Homsi and his wife were married, the two of them strolled along the Euphrates River, ate grilled meats, and enjoyed ice cream.
It's not the first time that IS has tried to tempt people into the 'benefits' of living in the so-called caliphate.
READ MORE: Australian woman abandons kids to live with ISIS
Just last week, the extremist group released a 'tourist guide' which compared the caliphate to a holiday resort.
In February, the group released a 50-page e-bookoffering would-be jihadists advice on how to reach Syria to join the group.
But in its frenzy to paint the caliphate as a desirable place to live, IS glosses over the devastating atrocities it continues to commit.
It was reported this week that the group is committing sex crimes against girls.
"They are institutionalizing sexual violence...the brutalization of women and girls is central to their ideology," Zainab Bangura, UN special representative on sexual violence in conflict, told the Middle East Eye, as quoted by the Independent.
The comments came after Bangura toured refugee camps, listening to victims' firsthand accounts of what life is really like in IS-controlled territories.
You can share this story on social media: