​ISIS rise provoked by outside interference into Middle East, North Africa – Putin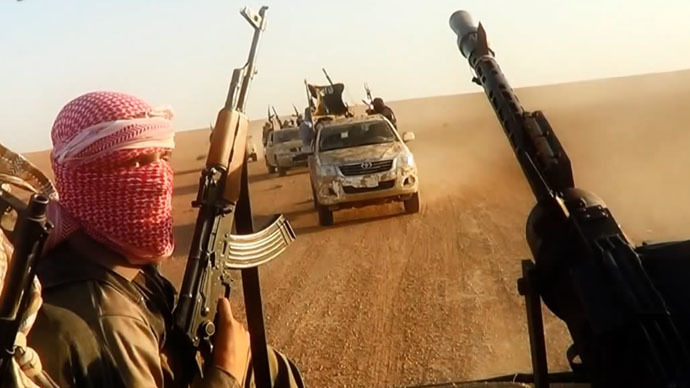 There was previously no terrorism in countries where Islamic State militants "now prosper" until outside forces "not sanctioned by the UNSC" interfered, Russian President Vladimir Putin said, stressing the "serious consequences" that followed.
"We know what is happening, for example, in the Middle East, in North Africa; we know the problems associated with a terrorist organization, which has appropriated the right to be called the 'Islamic State" (IS, formerly ISIS/ISIL)," Putin said during a meeting with security officials from the BRICS block in Moscow.
"But there was no terrorism in the countries where it [IS] flourishes today before an unacceptable interference from the outside happened, not sanctioned by the Security Council of the united Nations," he stressed.
Russia's president describe the consequences of such interference as "serious," with the Islamic State currently controlling territory in Syria, Iraq, Libya, Lebanon, Afghanistan and Nigeria.
"Correcting everything that's been happening in the international arena in previous years is essential," he said.
According to Putin, tackling organized crime, terrorism, and financial crime are important issues on the agenda of the BRICS block and the international community as a whole.
The BRICS countries (Brazil, Russia, India, China and South Africa) are "facing increasing threats due to the violations of the international law, the violations of sovereignty of various states," he added.
READ MORE: 'Ditch double standards!' Russia seeks united anti-ISIS front after Palmyra massacre
After Islamic State jihadists executed 400 people, mostly women and children, in Syria's ancient city of Palmyra over the weekend, the Russian Foreign Ministry urged the international community to denounce double standards in its approach to fighting terrorists and unite in fighting the group.
Moscow has labeled IS a threat to "stability and security in the entire Middle East," saying that the West should "launch efficient cooperation with the governments of Middle East countries, which are directly repelling the IS offensive."
US-led airstrikes against the Islamic State aren't enough as the group is "acting ever more actively and stops at nothing to reach its goal – the establishment of a trans-border 'caliphate' spanning a vast area from Damascus to Baghdad," the ministry stressed.
The atrocities cause by the Islamic State are "yet more bitter fruit of the policy pursued by the UK, the US and France and their Gulf allies for the past eight years… of fostering violently sectarian anti-Shia militias in order to destroy Syria and isolate Iran" political writer, Dan Glazebrook, stated in his op-ed piece for RT.
You can share this story on social media: