​ISIS travel guide: UK police remove jihadi manual from web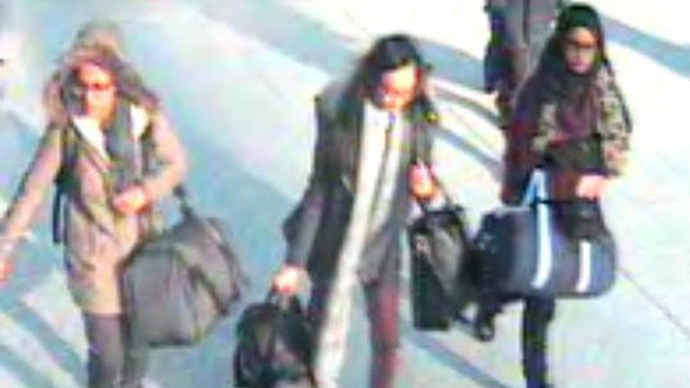 UK police are trying to remove an Islamic State travel guide from the internet, which offers would-be jihadis advice on how to reach Syria to join the group, from what to pack for the trip to how to elude Turkish authorities.
The new 50-page e-book, titled Hijrah to the Islamic State, released this month by ISIS, gives directions, advice and provides maps. It suggests aspiring jihadis fly into Şanlıurfa, Turkey, to then embark on an 80-mile overland trip to Raqqa, Syria, the capital of the "caliphate."
The manual has since been deleted from several webpages, including JustPaste.It and Scribd.
Its release comes amid reports that three London schoolgirls boarded a flight to Istanbul to sneak into the "caliphate" to join ISIS. The teenagers, Shamima Begum, 15, Kadiza Sultana, 16, and Amira Abase, 15, have reportedly entered Syria after having been lured in by ISIS propaganda.
"People who leave to get to Syria do not tell anyone, not even family. Travelers to Syria usually want to reach Turkey. But for safety reasons, they buy a ticket for an indirect holiday country like Spain or Greece so their destination doesn't seem suspicious," the guide says. It also suggests they buy a return ticket to avoid suspicion.
It denies cooperation between ISIS and Turkish authorities. "It is important to know that the Turkish intelligence agencies are in no way friends of the Islamic State. They will try to imprison anyone they suspect of being members of the Islamic State," the manual reads. "The only reason members live in Turkey in some peace is because Turkey fears revenge attacks."
READ MORE: ISIS releases moms' guidebook to raising 'jihadi babies'
Asked about the guide, a Scotland Yard spokesperson told The Guardian: "It's of interest to the CTIRU [Counter Terrorism Internet Referral Unit] and we have and we will seek its removal from websites and social media platforms." The unit scours the web for terrorist publications.
The e-book offers tips on how to dress in a non-religious fashion so as not to arouse suspicion. "Lately things have got harder at the Turkish border, so Islamic State members often meet new people in Turkey hotels and smuggle them across the border," it states.
The militant group, which seized large swathes of Iraq and Syria last year, has launched a full-scale social media campaign, using it as a recruiting tool for jihadis from nations including the UK, France, Germany and the Balkans.
READ MORE: 'Marry at 9, stay home': Women jihadists issue guide to life under ISIS

The list is often comically mundane, with details including bringing hand lotion for dry skin and buying a guidebook to Turkey to know about the country's sights if asked by authorities. "This is important since if they question you, you can just brandish this in front of their noses and show them how serious of a tourist you are."
For the journey, ISIS recommends would-be jihadis do not carry more luggage than a single suitcase, a "tough" backpack with lots of pockets, and one fanny pack to stash passport and a wallet along with other "vitals" including wet wipes, band aids and "a few pills (if you suffer from any condition)."
For personal hygiene, the guide recommends bringing an electric hair trimmer. "If you're a brother, this is the quickest way to trim your moustache here, and if you like the Talafi buzzcut or egghead-style, then bring a bigger hair clipper."
The group's notorious 'Jihadi John' has now been identified as Mohammed Emwazi, a British man from West London. He appeared in several ISIS videos beheading foreign hostages – first in August 2014, when US journalist James Foley was killed.
READ MORE: 'Jihadi John' identified: ISIS killer named as Mohammed Emwazi from West London
In December, the group published a gruesome guidebook for its fighters on how to buy, sell and abuse captured girls – even if they have not reached puberty. The manual in Arabic, titled "Questions and Answers on Taking Captives and Slaves," was circulated on the Twitter accounts of senior IS leaders.
Twitter has continued its efforts to suspend accounts linked to ISIS.
A fellow at the Brookings Institution, J.M. Berger, told the US House of Representatives Committee on Foreign Affairs in January: "We noted that almost 800 confirmed ISIS supporter accounts were suspended between fall 2014 and January 2015. This may be the tip of the iceberg, as we also identified almost 18,000 accounts related to the ISIS network which were suspended during the same time frame."
You can share this story on social media: