'Marry at 9, stay home': Women jihadists issue guide to life under ISIS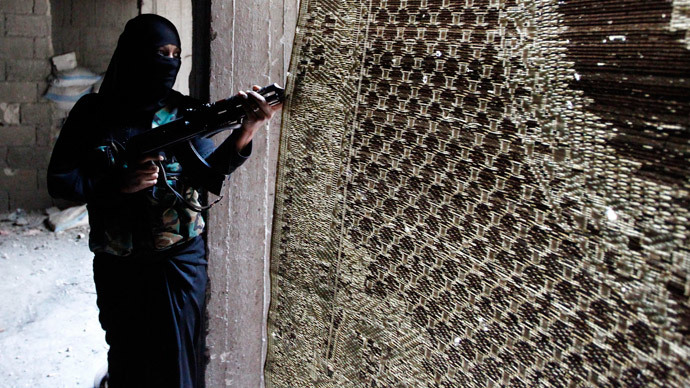 Militants from an all-female group working for the Islamic State (IS, formerly ISIS) in the Middle East have released guidelines for women, which encourage girls of nine to marry men and finish their education at 15.
The document, which is believed to be the first of its kind, entitled: "Women of the Islamic State: Manifesto and Case Study" and written in Arabic, has recently been translated by Quilliam, a UK-based counter-terrorism think tank.
The document was authored and distributed on jihadist forums in January by a media wing of the Al-Khanssaa Brigade– an IS branch dubbed as the jihadists' female policing brigade, according to Quilliam. The document said it's not official Islamic State policy, but rather guidelines that were put together by women supporters.
The text, interlaced with religious texts, is divided into three sections. The first is a rebuttal of Western civilization, focusing on education, sciences and feminism. The second describes women's life in territories controlled by jihadists in parts of Syria and Iraq. The final section compares women's lives in IS-held territories with those in Arab states, including Saudi Arabia.
READ MORE: 'Beheaded, crucified, buried alive': UN slams ISIS for killing Iraqi children
The manifesto stresses that the main role of a woman is to stay home and "remain hidden and veiled." The document encourages young girls to get married at the age of nine, while the "most pure girls will be married by 16 or 17."
An "ideal education" curriculum for girls between seven and fifteen features religious studies, knitting and cooking.
The group condemns beauty salons, wearing fashionable clothes and jewelry, shaving and piercing, and said these practices were inspired by the devil.
It also denounces the scientific achievements of Arabic scholars and scientists in Western states. The document said the "ideal Islamic community" should refrain from science and trying to uncover the secrets of nature.
READ MORE: ISIS releases moms' guidebook to raising 'jihadi babies'
According to Quilliam, the document was designed as a means of drawing in women from countries in the region, in particular those in the Gulf, as it was written only in Arabic.
"Just as they have sexed up what it is to be a women living in the so-called caliphate, this document dresses it down. Women, it is unambiguously stated, are homemakers and mothers," the think-tank said in remarks to its translation.
The document does not mention any of the abuses of jihadist militants against women and children, who are kidnapped, raped, tortured and forced to convert to Islam.
Quilliam added that this translation gives deeper insight than the propaganda bandied about on social media by Western supporters of IS, "enabling us to get into the mind-set of the hundreds, perhaps thousands, of women who willingly join its ranks."
Earlier, the Islamic State released a guidebook for young mothers with "helpful tips" on how to raise a Mujahid child.
You can share this story on social media: