'Beheaded, crucified, buried alive': UN slams ISIS for killing Iraqi children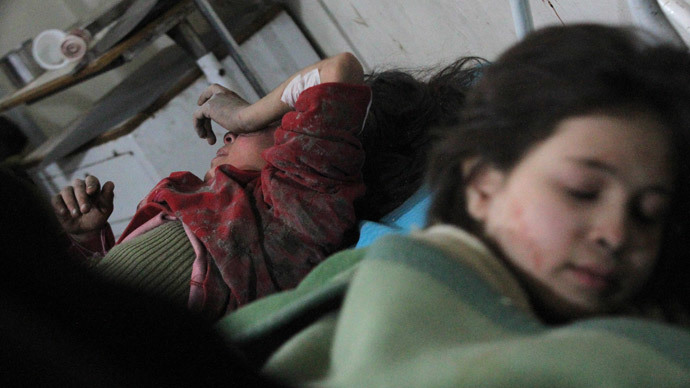 Islamic State jihadists are killing kidnapped Iraqi children, including by crucifixion or by burying them alive, with others being sold as sex slaves, the UN Committee on the Rights of the Child said.
"We are really deeply concerned at torture and murder of those children, especially those belonging to minorities, but not only from minorities," Renate Winter, committee expert, said at a briefing.
The Islamists target not only children from the Kurdish Yazidi sect and Christian communities, but also Muslim youths of Shia and Sunni branches, she added.
More and more boys aged under 18 are being used by the Islamic State (IS, formerly known as ISIS/ISIL) as suicide bombers, bomb makers, informants and human shields during the US-led air strikes, the United Nations watchdog said.
"We have had reports of children, especially children who are mentally challenged, who have been used as suicide bombers, most probably without them even understanding," Winter told Reuters.
She also spoke of online videos showing children of eight years old and younger being trained as soldiers for the militant group.
READ MORE: Boys of war: ISIS recruit, kidnap children as young as 10 yo
In its report, UN Committee on the Rights of the Child has denounced and has condemned "the systematic killing of children… including several cases of mass executions of boys, as well as reports of beheadings, crucifixions of children and burying children alive."
IS has also committed "systematic sexual violence" on youths in Iraq, with "abduction and sexual enslavement of children" being a common practice, the Committee said.
The children of minorities are "sold in the market place with tags, price tags on them, they have been sold as slaves," Winter said.
READ MORE: Islamic State admits, justifies enslaving Yazidi women and children
The UN watchdog called on Iraqi authorities to "recuse children" from the Islamic State and bring to justice those responsible for atrocities.
"There is a duty of a state to protect all its children. The point is just how are they going to do that in such a situation?" Winter said.
The current report is the first time when the UN watchdog addressed the fate of children in Iraq since 1998.
The Islamic State have captured large parts of land in Iraq and Syria during its offensive in 2014 and declared a 'caliphate' with strict Sharia law there.
The UN has described the IS rule as the "reign of terror" after the group killed thousands, including foreign hostages, and forced hundreds of thousands from flee homes.
You can share this story on social media: