Islamic State admits, justifies enslaving Yazidi women and children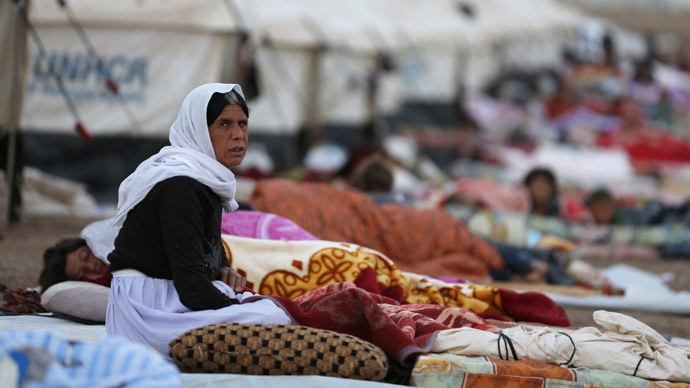 The Islamic State has admitted and tried to justify enslaving and selling Yazidi women and children, captured during a blitz advance in Iraq and Syria. A new Human Rights Watch report confirms "abuses" against Kurdish ethno-religious community.
In an article published in the latest issue of the jihadist Dabiq magazine, a major PR instrument of ISIS, the group described the fate faced by the Yazidi minority after jihadists launched their onslaught on Sinjar region in Iraqi Kurdistan in August.
READ MORE:Hundreds of Yazidi minority women taken captive by ISIS in Iraq
Following the attack, the article claims, "the Yazidi women and children were then divided according to the Shariah amongst the fighters of the Islamic State who participated in the Sinjar operations."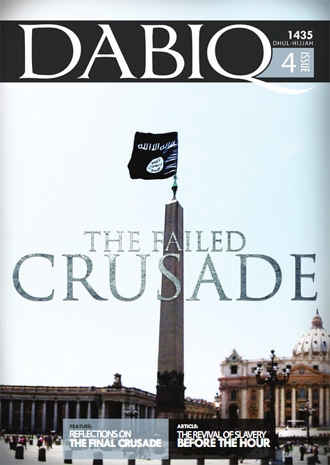 "The enslaved Yazidi families are now sold by the Islamic State soldiers," the author adds, noting that Sharia law saw is being observed and fighters did separate small children from their mothers.
Dabiq magazine goes to extensive ends to justify slavery using theological arguments while in another of the 70-page propagandist magazine authors quote Shaykh Abu Mahamed al-Adnani as saying: "We will conquer your Rome, break your crosses, and enslave your women, by the permission of Allah, the Exalted."
On Sunday, Human Rights Watch (HRW) released a report where it claims, based on a series of interviews that ISIS has "systematically" separated Yazidi young women and teenage girls from their families forcing them to marry its fighters.
HRW managed to track down 16 Yazidis who escaped Islamic State custody, and interviewed two detained women by phone.
None of the women admitted to have been raped, but four of them said they had fought off sexual assaults while confirming that other detained women told them that IS fighters had raped them. One interviewee said she witnessed a teenage girl being auctioned off to a fighter for $1,000. The women also attested to boys being forced to convert to Islam.
Seve, a 19-year-old who escaped ISIS captivity in late August, told Human Rights Watch that she watched the jihadis kill her husband before capturing her near Sinjar. She says that she was taken to Mosul, where ISIS forced her and others to marry them in group "weddings."
READ MORE:'Terrifying' UN report details ISIS war crimes in Iraq
Layla, another former captive said she and her sister were kept in a large hall in Mosul, alongside some 200 young women and girls. Each night, she said fighters came and chose a woman to take home with them.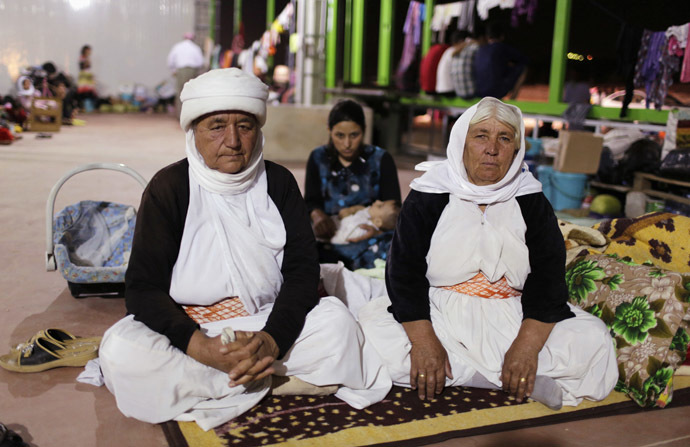 "Every night the armed guards would say, 'The mujahidin have arrived!' They would enter the hall and pick those they desired, sometimes with force, other times just by pointing at them. When we asked the guards what was happening, they would say, 'They are taking them to help the mujahidin at their houses'," she told HRW.
The systematic abduction and abuse of Yazidi civilians "may amount" to crimes against humanity, Human Rights Watch said.
"Some specific abuses against civilians committed by members of Islamic State, as an armed group in a conflict, may amount to war crimes if committed with criminal intent, such as violence to life and person, including cruel treatment, and outrages against personal dignity."
Since the ISIS lightning advance this year, Iraq's Yazidi minority have fallen victims to the extremists with reported cases of mass executions by Islamic State militants and kidnapping of women. More than 500,000 Yazidis and other religious minorities have fled Islamic State attacks in northern Iraq since June, most to the semi-autonomous region of Iraqi Kurdistan, according to the United Nations and regional officials.
You can share this story on social media: