Key Bahraini opposition figure handed 4yr jail term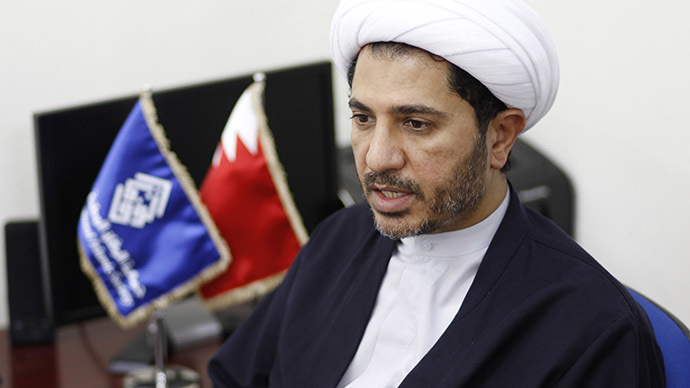 A court in Bahrain has sentenced Shiite opposition leader Sheikh Ali Salman to four years in prison. He was convicted of insulting the Interior Ministry and of inciting others to break the law in the aftermath of the 2011 uprising.
"The Higher Criminal Court sentenced the secretary general of one of Bahrain's political societies to four years imprisonment," advocate general Haroon Al-Zayani told state news agency BNA.
READ MORE: Bahrain arrests main Shia opposition leader
The opposition figure escaped a more serious charge of inciting violence and calling for the overthrow of the monarchy. Had he been found guilty, he could have been sentenced to life in prison. Salman's lawyer, Abdullah al-Shamlawi says his client can appeal the ruling.
Salman is known to have been instrumental in organizing the 2011 uprising against Bahrain's Sunni monarchy. The 49-year-old was the secretary general of the Al-Wefaq opposition group when he was arrested in late December.

"Keeping Ali Salman in jail means delaying any political solution to come and reflects the government's rejection to a political solution," Al-Wefaq member Khalil Marzooq said.

The Bahraini group lambasted the ruling, saying it could lead to further violence. The opposition insists that Salman's words, used for leveling charges against him, were taken out of context.
ALL #Sheikh_Ali_Salman did was promote Justice-Equality yearn Democracy-in return #Bahrain handed him 4YEAR SENTENCE pic.twitter.com/zMH702B587

— #HumanRights4ALL (@OneLadyLibra) June 16, 2015
"The sentence gives a new lease on life to the crisis and gives greater legitimacy to mobilize. The people have no choice but to continue in their peaceful popular movement," Al-Wefaq said in a statement on its official website. "People will not return to their homes and will not relent in their demands."

READ MORE: Strike of Defiance: Tear gas floods Bahrain as protests mark 2011 uprising (PHOTOS, VIDEO)

Al-Wefaq, which boycotted last year's parliamentary elections, wants greater power-sharing between elected lawmakers and the monarchy, the release of political prisoners and a prime minister chosen by elected officials.

The decision to jail the opposition Shiite figure was slammed by Amnesty International UK, who said the decision, "has again demonstrated the Bahraini authorities' disregard for the right to freedom of expression."
READ MORE: Amnesty condemns Bahrain's 'rampant' human rights abuses days before F1 Grand Prix
The organization considers Salman to be a prisoner of conscience, who has been detained solely for expressing his views peacefully. The rights group specifically added that the Shiite leader's detention violates Bahrain's obligations under Article 19 of the International Covenant on Civil and Political Rights, to which Bahrain is a state party.
Bahrain jails main opposition leader Ali Salman for peacefully expressing his opinion http://t.co/KKWP9EEOA8pic.twitter.com/eSSRxSUlSs

— Amnesty UK (@AmnestyUK) June 16, 2015
"Today's verdict is shocking. It is yet another clear example of Bahrain's flagrant disregard for its international obligations. Sheikh Ali Salman has been sentenced solely for peacefully expressing his opinion," said Said Boumedouha, Amnesty International Middle East and North Africa Deputy Director.

"For a country that has expressed outrage at criticism of its human rights records, Bahrain has not hesitated to suppress political opposition and muzzle critical voices at every opportunity," Boumedouha added.
On eve of jailing Sheikh Ali Salman to 4 yrs, US moves to lift arms embargo on regime accused by its own BICI of systematic torture #Bahrain

— Saeed Shehabi (@SaeedShehabi) June 16, 2015
The case against Salman had previously attracted international attention, with Iran blasting the process and the EU warning that it could destabilize the security situation in Bahrain. Meanwhile, the US, which has its Navy's 5th Fleet stationed in Bahrain, called for Salman to be tried in a "just and transparent way," according to AP.
READ MORE: Iran will protect 'oppressed' in Yemen, Palestine and Bahrain – Khamenei