Strike of Defiance: Tear gas floods Bahrain as protests mark 2011 uprising (PHOTOS, VIDEO)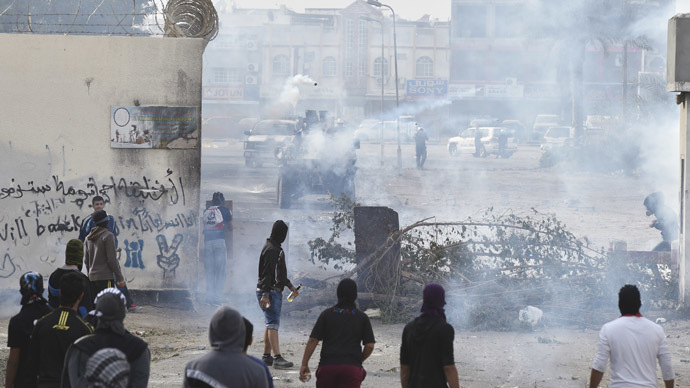 Bahraini police fired tear gas at hundreds of Shia protesters who took to the streets on Saturday, on the fourth anniversary of the Arab Spring uprising, supporting the opposition, whose leader is currently behind bars.
READ MORE: Bahrain sentences leading activist Nabeel Rajab for tweet
Carrying national flags, as well as portraits of detained activists, people chanted "Down Hamad", referring to the Sunni king, witnesses said, according to AFP. They burned tires and blocked village roads with rocks, garbage containers and branches.
A cyber youth group, February 14 Coalition, united the Shia majority of the Persian Gulf kingdom under the slogan "Strike of Defiance."
Protester carry "Teddy Bear" - quickly becoming mascot of this year Feb14 protests – to place in front of police during clashes in #Sitra 13 Feb 2015 in one of several protests across #Bahrain in run up to mark 4th Feb14 anniversary

A photo posted by Mazen Mahdi (@mazenmahdi) on Feb 13, 2015 at 12:08pm PST
Heavily deployed police fired tear gas and sound bombs in several villages and along major roads across the country. Although no casualties have been reported, images of various shotgun injuries of Bahraini protesters appeared on social media.
Women could be trouble makers also to repressive government like #Bahrainpic.twitter.com/7nsZ4lAuJY

— Nabeel Rajab (@NABEELRAJAB) February 13, 2015
The public security chief, Major-General Tariq al-Hassan, said in a statement ahead of the demonstrations: "Action will be taken against those who spread terror among citizens or residents, put the safety of others at risk or try to disrupt the nation's security and stability."
New images of the #torrorism in #bahrain it all credibility without increasing and fabricator صورحصريه للاعمال الارهابيه في #البحرين انقلها لكم بكل مصداقيه بدون زياده اونقصان اضعها اماكم لتكونوا شاهدين و الحكم علئ تصرفاتهم حط منشن حق ربعك #tag yr frnd #saeedalhamad1 #bin_hamada @aluwaa @___ssfc @3ayoonalbahrain @alzayani_hisham @alayamnewspaper @alwatangram @bh_navy @mnarfezhum @iriffa3i @editorbh @almanber #wthq #bahrain @m7r8awigroup @instgram @ahmedzaman #alwefaq #feb14 #instagram #بنا #وكالة_أنباء_البحرين #bna #bh #bnanews @sawsantaqawi #سعيد_الحمد #البحرين #ثقتنا_في_الخليفة #١٤فبراير #14_فبراير_يوم_الولاء_للوطن_والقيادة #هذه_البحرين #بن_حماده @madmarham1

A video posted by bin_hamada بن حماده (@bin_hamada) on Feb 14, 2015 at 2:16am PST
READ MORE: Bahrain suspends 'independent' news network for 'failing to fight terrorism'
Base of the US Fifth Fleet and a Western ally in the fight against the Islamic State (also known as ISIS, or ISIL), Bahrain saw major Shia protests in February four years ago, but they were cracked down by Saudi-backed authorities, who support the Sunni minority.
#Bahrain: intense clashes between anti-regime protesters and security forces in Saar village http://t.co/tLkelTnj5epic.twitter.com/vy00OOKvPD

— Thomas van Linge (@arabthomness) February 14, 2015
The political divide in the country got even deeper when the opposition leader Sheikh Ali Salman was arrested last December, as he boycotted parliamentary elections. Salman was re-elected head of Bahrain's main opposition party Al-Wefaq, so his detention sparked protests across the country, which were marked by clashes with security forces.
READ MORE: #BahrainSchism: Anti-government protests break out after arrest of Shia opposition leader
You can share this story on social media: