#BahrainSchism: Anti-government protests break out after arrest of Shia opposition leader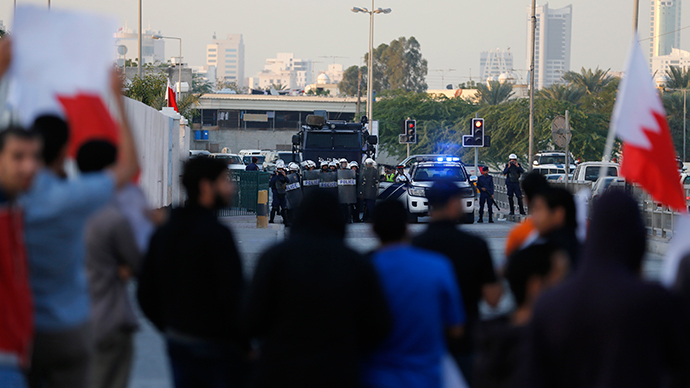 Protests in Bahrain against the detention of the head of the banned Shia movement, Al-Wefaq, on Sunday, have been marked by clashes with security forces. Sheikh Ali Salman boycotted parliamentary elections, influenced by the ruling Sunni royal family.
Opposition groups protested Monday against the arrest of cleric Salman, 49, who remains in custody for further questioning, AFP reported.
They were supported by dozens of Shia clerics, who gathered in Imam al-Sadeq mosque in Al-Guful village near Manama, saying that the arrest was a "huge insult to all the people."
Reuters reported clashes between protesters and security forces outside the home of the detained cleric. Police fired tear gas to disperse the crowd.
Ongoing protests across #Bahrain since the arrest of @WefaqGS calling for his immediate release #FreeSheikhAlipic.twitter.com/5J5AyKZJ5w

— AlwefaqEN (@AlWefaqEN) December 29, 2014
"The Bahraini Authority is moving backward to a police state instead of taking steps toward a political solution and an end to the serious human rights violations against citizens," opposition groups led by Al-Wefaq said in a statement.
Clerics in #Bahrain gather in Imam Sadiq mosque denouncing arrest of #Alwefaq SG and demanding his release pic.twitter.com/9xrQhhtEF2

— AlwefaqEN (@AlWefaqEN) December 29, 2014
Salman's lawyer said on his Twitter account that Bahrain's public prosecutor had decided to keep the cleric in detention for a week for further questioning, Reuters reported on Tuesday.
On Sunday morning, as the banned Shia opposition party announced the arrest of its leader, clashes broke out between the security forces and hundreds of Al-Wefaq supporters. People gathered in villages near the capital city of Manama.
The people of #Bahrain will not accept to be oppressed and silenced #FreeSheikhAlipic.twitter.com/tZ38Wd3EOo

— AlwefaqEN (@AlWefaqEN) December 29, 2014
According to witnesses, as cited by AFP, police used teargas and birdshot to disperse the crowds in the Shia village of Bilad al-Qadim, where Salman lived. No casualties were reported.
READ MORE: Bahrain arrests main Shia opposition leader
Police announced the arrest of Salman after an extensive 10-hour interrogation about "violating certain aspects of the law," the Interior Ministry said in a statement. Later, the arrest was explained by his "promoting regime change by force, threats and illegal means and of insulting the Interior Ministry publicly," prosecutor Nayef Mahmud said in a statement.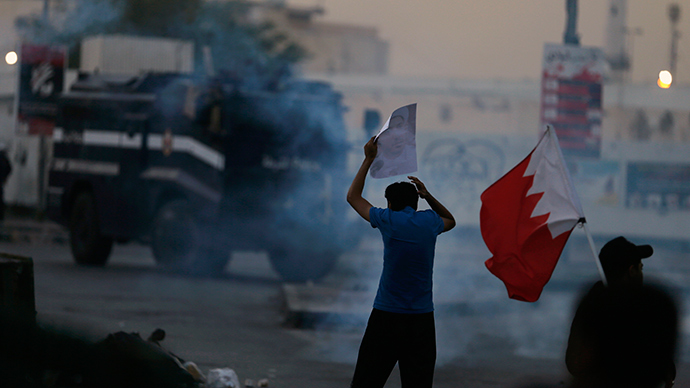 Salman's lawyer, Abdullah al-Shamlan, said that among the accusations were "inciting hatred against the regime and calling for its overthrow by force"; "spreading false news likely to cause panic and undermine security"; and "participation in events detrimental to the economy."
Calling the detention "a dangerous adventure that will complicate the political situation in Bahrain," Al-Wefaq demanded Salman's immediate release.
In response to the opposition leader's detention, the United Nations human rights office said it was concerned that Salman could be handed a lengthy prison sentence.
"Opposition parties are fundamental pillars of any democracy and Sheikh Salman's arrest risks intensifying the fraught political scene that has seen anti-government protests for nearly four years," a spokeswoman for UN Human Rights chief Zeid Ra'ad al-Hussein Zeid's office said in a statement.
These crowds are shouting #FreeSheikhAli NOW Sheikh Ali is a nonviolence opposition leader not a criminal #Bahrainpic.twitter.com/O4izuMkJTn

— AlwefaqEN (@AlWefaqEN) December 29, 2014
At Friday's congress of the party, Salman was reelected as Al-Wefaq leader, and thousands of people from the country's Shia majority protested in the suburbs of Manama, calling for the dismissal of parliament and the government.
READ MORE: Protesters clash with Bahraini forces, call election 'farce' (PHOTOS, VIDEO)
That protest followed the condemnation of November parliamentary elections, which Al-Wefaq called a "farce." The party called for an elected prime minister, who would be independent from the Sunni Al-Khalifa dynasty.
A small island kingdom, Bahrain is regarded as a strategic Gulf state, and it hosts the home base of the US Navy's Fifth Fleet. Earlier this month, Britain announced plans to build its own naval base there.
You can share this story on social media: