Protesters clash with Bahraini forces, call election 'farce' (PHOTOS, VIDEO)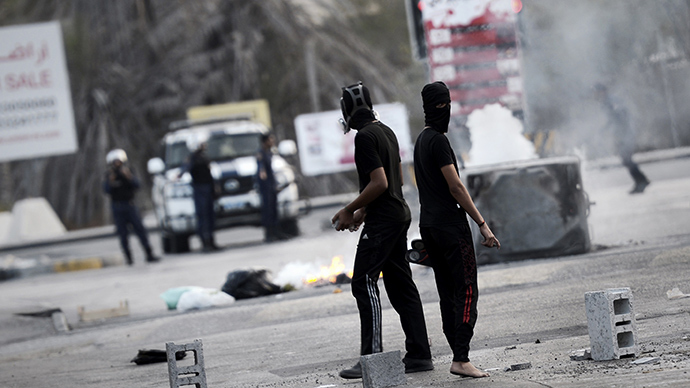 Security forces in Bahrain have engaged anti-regime protesters with tear gas as crowds of activists across the nation attempted to block the streets in protest against parliamentary elections which they see as farce and sham.
Sporadic clashes erupted all over the tiny island nation on Saturday where protesters have blocked roads in several towns to show their discontent with the country's first parliamentary and municipal elections since a 2011 popular uprising.
Security forces responded with force firing tear gas and rubber bullet to disperse the protesters who attempted to block streets with burning tires.
Election day in #Bahrain :attacks on peaceful gathering around the country and clashes between police and protestors pic.twitter.com/jyh03GDpWe

— Nabeel Rajab (@NABEELRAJAB) November 22, 2014
The country's Shia opposition groups have dismissed the election as a "farce" and called for a vote that would include a candidate not affiliated with the ruling Sunni family.
READ MORE:Bahrain stages controversial elections amid Shia boycott
Bahrain's biggest opposition party, Al-Wefaq, and others have boycotted the polls because of what they see as a lack of legitimacy. Before the vote, Al-Wefaq announced the regime's failure to reach a political agreement with the opposition which could spark an "explosion" of violence.
The opposition groups have in turn held an anti-regime referendum, Tasnim News Agency reports.
"The referendum wants to send the international community the message that Bahrain could find a basic solution to the crisis and the 200-year-old problem," Rashed al-Rashed, a leader of Bahrain's February 14 movement told the agency earlier this week.
Since February 2011, numerous demonstrations in the streets of Bahrain have led to violence, as the Shia majority is calling for the Al-Khalifa royal family to give up power. The crackdown by the government has led to many allegations of human rights abuses, including torture
#السهلة_الجنوبية : فيديو - " #عصيان_الحرية " تفجير سلندر وبدء الجولة الأولى 22-11-2014 #14feb#bahrain#alsehlahttp://t.co/qaOPBoi782

— خط النار نيوز (@Khatalnar_news) November 22, 2014
Injures with shotgun bullets in sitra today by riot police #Bahrainpic.twitter.com/7pyKw5y4wd

— Hussain Radhi (@Huss3inRadhi) November 22, 2014
A picture from Maameer area where prodemocracy protesters were being attacked by police teargas. #Bahrain#No_Vote_BHpic.twitter.com/2kYLt4UEoT

— AlwefaqEN (@AlWefaqEN) November 22, 2014
In Sitra on elections day ppl protesting for rights that a show elections won't guarantee for them pic.twitter.com/G62ODcAE9o#bahrain

— BOYCOTT &Free Shawqi (@FreedomPrayers) November 22, 2014
#البلاد_القديم : لقطات مصورة من أحداث البلدة بالجولة الاولى ضمن خطوات " #عصيان_الحرية " #14feb#bahrain#biladpic.twitter.com/MM5IgAr0c8

— خط النار نيوز (@Khatalnar_news) November 22, 2014
You can share this story on social media: