Bahrain election to deepen dispute between govt and opposition – activist Nabeel Rajab (EXCLUSIVE)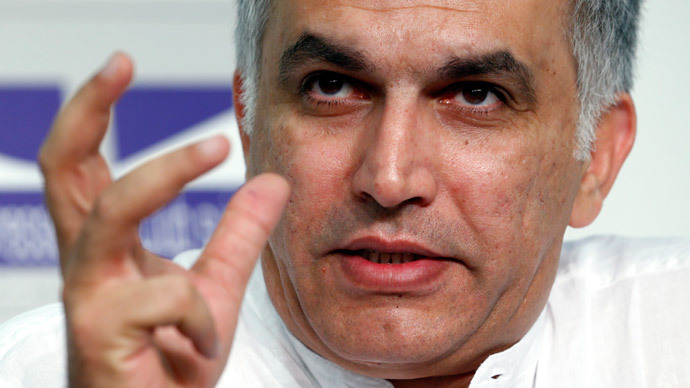 The Bahraini general election won't resolve the political deadlock in the country as it's only staged to mislead the international community, human rights activist Nabeel Rajab told RT, expressing hope the interview won't land him in prison again.
READ MORE:Released activist Nabeel Rajab vows to continue fight for human rights (EXCLUSIVE)
Bahrain goes to the polling stations on Saturday for the first time since the 2011 uprising, which was tackled by the ruling monarchy with violence and mass repressions against the dissidents.
People will be choosing from a total of 419 candidates, running for parliamentary and municipal council seats.
There are 153 candidates for the municipal councils and 266 for the 40-seat Council of Representatives, lower house of parliament, which forms the Bahraini National Assembly together with the forty government-appointed seats of the Consultative Council.
Another 40 members of the upper house the Consultative Council will be appointed by the ruling Al Khalifa family.
Rajab, who is the president of the Bahrain Centre for Human Rights, has been released from prison on bail on October 1, with his the trail scheduled for January 20.
The activist is prosecuted for criticizing the Bahraini government on Twitter. He previously spent two year behind bars for his involvement in the pro-democratic protests.
RT:Do you think that the vote will somehow be able to ease the tensions between the Sunni minority in power and the Gulf state's Shia population?
Nabeel Rajab: I don't think so. I think this election is going to deepen the crisis. And again fuel the dispute between the government and the opposition. In fact, people of Bahrain, opposition and human rights organizations were calling the Bahrain government for dialogue – dialogue with the opposition; dialogue with people, who came out in 2011, calling for democratic reform, calling for reconciliation between the people of Bahrain and the Bahraini regime.
But instead Bahrain government heads for an election to a parliament that has no power to legislate or monitor. A parliament, half of which is being appointed and other half, which is elected, has no power at all. It's more cosmetic to show the international community that there's a process of democratization, but in reality that's not going to do any changes on the ground. Instead, it's going to make problems deeper in Bahrain.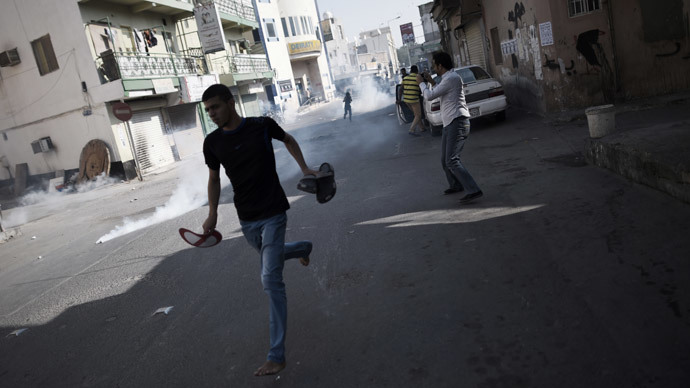 RT:Do you agree that Bahrain currently lacks the right political background to stage a fair and representative election?
NR: You can't have an election with almost half of the opposition leaders in jail. You can't have an election where each and every Shia family has one or two persons in detention. You can't have an election with no compromise with opposition. You can't have a one-sided decision. I think dialogue has to be started. Reconciliation process has to start. We demand a genuine reform process, not something (that's done) just to change international opinion or to mislead the international community.
We need a real reform. We need a parliament that has power to legislate. We need a parliament that represents people – don't represent only the people brought from outside Bahrain or newly naturalized people. We want parliament that represents people and has power to legislate, to monitor and to bring those people, who are responsible for human rights violations to justice.
We think we need to create an environment for that, first of all, by releasing all political prisoners, which is thousands of them are in jail. Bahrain has the highest number of political prisoners. You can't have an election in this sort of environment. First, there should be a dialogue. We should have reconciliation. Then we should head to an election.
RT:How was it even possible for Bahrain to slip into becoming a wall-to-wall dictatorship?
NR: It's not the end of the game. In fact, there's a lot of deterioration and, more being created, which has changed Bahrain into a dictatorship. You can see it. Maybe I'm an example of that I can speak of. And I hope also that this interview won't take me back to jail as I'm waiting for my verdict in January.
Bahrain has changed to a dictatorship where you can't speak, you can't talk, you can't make a statement that criticizes any institution or government official. In reality, things have much deteriorated because of the abandonment of the international community of our struggle for democracy and social justice in this country. Unfortunately, we've been ignored. Many countries – like the UK, specifically – have ignored our struggle, seeing their interests, seeing their arms trade has more priority than our rights, our struggle for democracy. But we're more determined, we're more committed to continue our struggle and I'm more confident and optimistic that if we do continue, we're going to have democratic country one day.
You can share this story on social media: