Bahrain detains, questions human rights activist Nabeel Rajab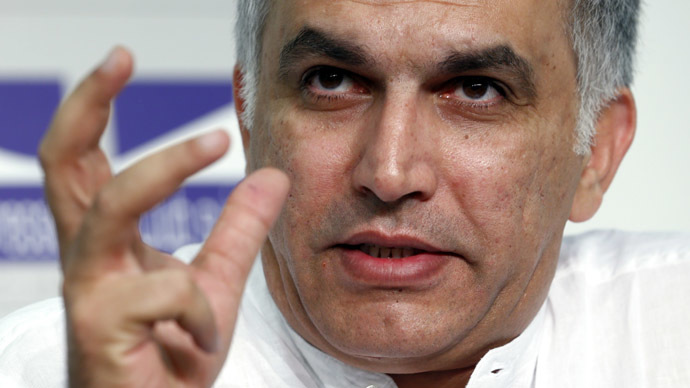 Bahrain has ordered prominent human rights activist Nabeel Rajab to be detained and questioned for a week over his Twitter remarks criticizing government institutions, one of his associates said.
Manama's Public Prosecution confirmed the detention and questioning of a person who publicly insulted state institutions online and confessed to the actions, but didn't give the exact name of the person.
On Thursday, an associate who runs Nabeel Rajab's Twitter account wrote that "the Public Prosecution has ordered the detention of Nabeel for 7 days on pending investigation."
The day before, the Interior Ministry stated that it had summoned Rajab "regarding tweets posted on his Twitter account that denigrated government institutions," Reuters reported.
Saeed Shehabi from the Bahrain Freedom Movement spoken with RT on the issue, saying that Nabeel's latest arrest can't be tolerated.
"The question is, 'Why? What for? What has he done? And nobody in the world can't prove [sic] that he has done anything but exercised his right to free speech. So he has expressed his opinion in his tweet on the regime. What he said was personal view and personal observation, that doesn't constitute a crime, only indicates how harsh the regime is,'" Shehabi said.
The prominent activist only recently returned to Bahrain from a trip abroad.
In May, he was freed after spending two years behind bars on charges of staging and participating in unlawful rallies.
After his release, Rajab urged for a "genuine dialogue" between the government and the opposition.
Last year, Rajab was sentenced to three months in prison in a separate case regarding a post on Twitter that criticized the Bahraini premier, the king's uncle. The sentence was overturned, but only after Rajab's release.
Rajab's lawyer Jalila al-Sayed told RT on its 'In The Now' program that his reason for staying in the country, despite the heavy crackdown, is "the pursuit for democracy, accountability," and "all Bahrainis are interested in it."
He was one of the leaders of the protest movement back in 2011 Shiite-helmed protests, demanding reforms. Bahrain, the hub for the US Navy Fifth Fleet, heavily cracked down on the demonstrations.
You can share this story on social media: