​Bahrain releases leading anti-govt activist Nabeel Rajab after two years in jail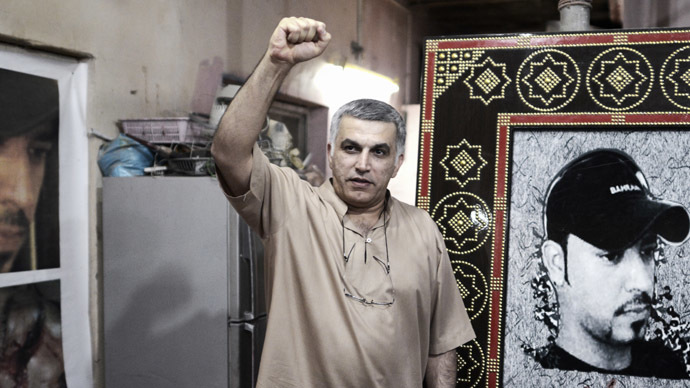 Key human rights activist Nabeel Rajab has been released in Bahrain, after spending two years in jail for taking part in mass protests that have rocked the Gulf state since 2011.
"After two years in prison, I see Bahrain's political environment as more difficult and still without a roadmap for real reforms," Rajab, the chief of the Bahrain Center for Human Rights (BCHR), told AP.
49-year-old Rajab was welcomed by a coterie of supporters in the capital city of Manana, and paid a visit to his mother's grave, before returning home.
Rajab was initially jailed for three months in May 2012 after tweeting a criticism of the Prime Minister, Prince Khalifa, the uncle of King Hamad, and openly criticizing the country's regime on RT while appearing on the Julian Assange Show.
Although the ruling was later reversed, a subsequent new charge for organizing "illegal gatherings" in a country where all public demonstrations have to be agreed by the authorities landed Rajab in prison for three years. The term was later commuted to two years, though appeals for early release for good behaviour were rejected.
"It is important to note that Rajab is not being released as a gesture of goodwill, but rather because he served the full length of his arbitrary detention sentence… During his detention, he faced dire conditions and was subjected to ill-treatment and torture," said a statement from BCHR.
"His release comes at a time when thousands of others continue to be imprisoned and targeted on trumped up charges."
The tiny island country, which has been ruled by the Sunni Khalifa family for over 200 years, was shaken by protests during the Arab Spring in 2011, led by pro-democracy activists and majority Shi'ite leaders. Rajab is also a Shi'ite.
The uprising was harshly and successfully suppressed, but tensions persist in the state, which hosts a US naval base and maintains close ties with Washington.
On Saturday, violence broke out at a ceremony outside the capital commemorating a 15 year-old boy who opposition leaders say was shot by the police at a funeral two months ago. Police said that attendees pelted officers with Molotov cocktails, and that they were forced to reply with tear gas, though there has been no information on further casualties.
You can share this story on social media: