​Amnesty condemns Bahrain's 'rampant' human rights abuses days before F1 Grand Prix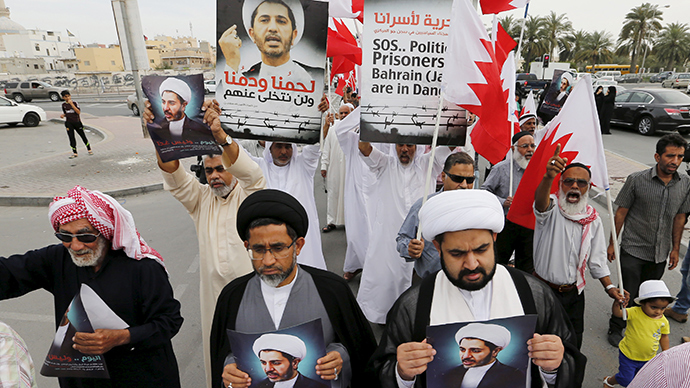 Amnesty International has published a report condemning Bahrain for its "rampant" human rights abuses days before the country hosts the Formula 1 Grand Prix.
The Gulf kingdom continues to imprison activists arbitrarily and subject them to torture and sexual assault, according to the report.
Bahrain's failure to end repressive policing comes despite assurances to the West that they are committed to human rights.
The island nation hosts the Bahrain Grand Prix this weekend, an event which sees journalists and spectators from around the world descend on the desert area of Sakhir.
Bahrain has attempted to promote a positive image abroad with promises of reform after the island kingdom's brutal crackdown on Shia-led protests in 2011.
Inspired by the Arab Spring, the country's Shia majority led protests against the Sunni royal family and government.
Daily clashes led to more than 80 civilian deaths, according to human rights activists.
UK Foreign Secretary Philip Hammond praised Bahrain in January for "travelling in the right direction" while defending Britain's decision to open a naval base there.
READ MORE: 'Stop arming Saudi Arabia!' Anti-war activists protest UK-backed Yemen airstrikes
His comments came just before Bahrain arrested Nabeel Rajab, its most prominent human rights activist, for sending an "insulting tweet."
Amnesty International's 76-page report, 'Behind the Rhetoric: Human rights abuses in Bahrain continue,' demonstrates the country has made little effort to end its crackdown.
Activists are regularly arrested and subjected to degrading and inhumane treatment, the human rights watchdog claims.
Amnesty's report details cases where protestors have been beaten, deprived of sleep and adequate food, burnt with cigarettes, sexually assaulted and subjected to electric shocks, including on their genitals.
One detainee was raped by having a plastic pipe inserted inside him.
Rajab was arrested again in April this year for speaking out against an outbreak of violence in one of Bahrain's prisons.
The human rights activist has previously criticized the US for its support of Bahrain's repressive regime.
As well as being a customer for US made weapons, Bahrain is also home of the US Fifth Fleet, an American naval force.
Amnesty International Middle East and North Africa Deputy Director Said Boumedouha said: "The notion that Bahrain respects freedom of expression is pure fiction."
"As the world's eyes fall on Bahrain during the Grand Prix this weekend, few will realize that the international image the authorities have attempted to project of the country as a progressive reformist state committed to human rights masks a far more sinister truth."
READ MORE: UK approves £5bn of arms exports to 'countries of human rights concern'
"Four years on from the uprising, repression is widespread and rampant abuses by the security forces continue," he added.
The Bahraini government responded to Amnesty International's report in a statement last Thursday.
"The government is disappointed that despite receiving Bahrain's full cooperation during Amnesty's visit and preparation of its report, in its hurry to publish the report for media attention, Amnesty did not reflect important clarifications provided by the Government on substantial points of fact. This has resulted in significant shortcomings in the report, which could have easily been avoided, if greater rigor and less haste had been applied," the statement reads.
"While the report fleetingly acknowledges the fundamental institutional and legal reforms, Bahrain has undertaken in the past four years as 'a significant step forward,' it glosses over these highly significant strides and the work of international experts and governmental partners. These efforts have culminated in the establishment of several independent oversight mechanisms including an independent Ombudsman, a Prisoners' and Detainees' Rights Commission, a Special Investigations Unit, and a National Institution for Human Rights to further strengthen legal guarantees for the protection of human rights, and to ensure accountability and justice..."
"...Amnesty's report also fundamentally misreports Bahrain's respect of the rights to freedom of opinion and expression and to peaceful assembly. These rights are protected by Bahrain's constitution, and the government continues to uphold them robustly. Yet as any other responsible government, the government of Bahrain will not tolerate violent attacks or incitement to violence committed under the guise of free speech and peaceful protest. It is the government's duty to protect citizens, residents, and visitors alike and the government makes no apology for doing so. Bahrain will respond to such attacks in accordance with its law and best international practices."
Meanwhile, Formula 1 chief Bernie Ecclestone previously dismissed criticism of the decision to give the race to Bahrain.
"We're not here, or we don't go anywhere, to judge how a country is run. Human rights are that the people that live in a country abide by the laws of that country," said Ecclestone.
The 2004 Bahrain Grand Prix was the first Formula 1 race to be held in the Middle East.
In 2011, the Grand Prix was cancelled after drivers protested against the Bahraini authorities' crackdown on demonstrations.
Amnesty International UK is hosting a panel discussion on Bahrain's human rights crisis on Friday, April 17. It will take place at 6.30pm at Amnesty's Human Rights Action Centre in Hackney, London.