Iran will protect 'oppressed' in Yemen, Palestine and Bahrain – Khamenei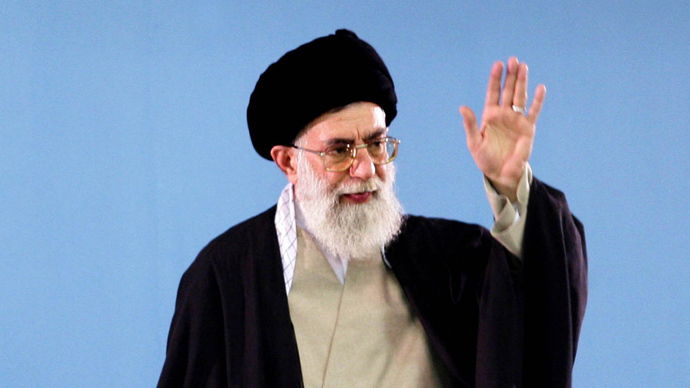 Iran will protect oppressed people in Yemen, Palestine and elsewhere in the region, Iranian Supreme Leader, Ayatollah Ali Khamenei, said, again slamming Tehran's main geopolitical rival, Saudi Arabia, for its aggressive policies.
"Yemen, Bahrain and Palestine are oppressed, and we protect oppressed people as much as we can," Khamenei said during a meeting with Iranian officials and diplomats from Muslim states.
The get-together was dedicated to the Lailat al-Miraj holiday when, according to Islamic tradition, the Prophet Mohammed visited heaven to meet with God and other prophets.
"Security in the Persian Gulf is in the interests of everyone... If it is insecure, it will be insecure for all," Khamenei warned.
"Those people, who bring suffering to Yemeni families during sacred months, are even worse than the ancient pagans of Mecca," the Supreme Leader is cited by the local IRNA news agency as saying.
Khamenei particularly referred to Saudi Arabia, in charge of the Sunni Arab military coalition, which is bombing the Shia Muslim rebels in Yemen.
The Saudis also sent troops to Bahrain back in 2011 to assist the local Sunni monarchy in curbing nationwide protests.
READ MORE: US will stand with the Gulf States against 'external attacks' - Obama
The statements came days after Arab Gulf leaders met with US president, Barack Obama, accusing Iran of aggressive attempts to expand its influence in the region.
On Thursday, Obama assured that the US will protect its Arab allies from "destabilizing activities" by Iran, despite Washington being among the world powers negotiating a deal on Tehran's controversial nuclear program.
Earlier on Saturday, Iranian Foreign Ministry spokeswoman, Marzieh Afkham, stressed that calling Iran a regional threat is a "ridiculous allegation" and a "contradiction of the facts."
"Iran views dialogue with its neighboring countries (in the Gulf Cooperation Council) as necessary and has always demanded this," she said.
The Gulf Cooperation Council includes Bahrain, Kuwait, Oman, Qatar, Saudi Arabia and the United Arab Emirates.
Afkham stressed that it's Saudi Arabia, which is destabilizing the region by bombing the Houthi rebels in Yemen.
Iran has repeatedly denied claims that it is supporting the Houthis as well as its involvement in Bahraini and Palestinian affairs.
You can share this story on social media: