Anti-Islamic marches to be held across Australia slammed as 'racist', counter protests planned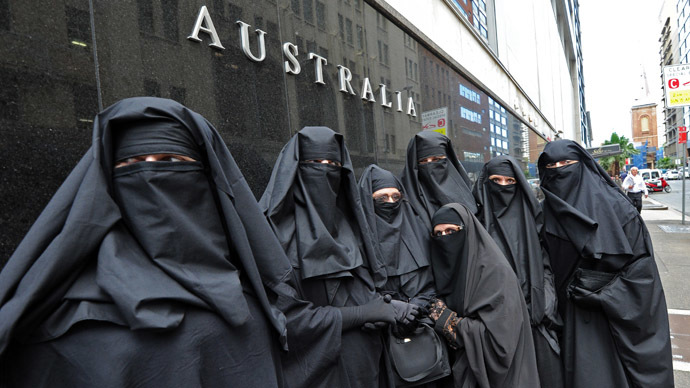 Anti-Islamic 'Reclaim Australia' marches are planned for 16 major cities on Saturday. Opponents have lashed out at the event in social media, calling it 'Nazi', while activists claim they are guarding traditional Christian values.
The nationwide rallies are to be attended by controversial figures, such as Shermon Burgess, a member of the far-right Australian Defense League and owner of the Great Aussie Patriot rightist propaganda webpage, and flamboyant cartoonist Larry Pickering.
#ReclaimAustralia speaker: Shermon Burgess who reportedly threatened to bomb mosques & murder Australia's most senior Sunni Muslim cleric.

— Brenden Prazner (@prazner) April 3, 2015
The march in Newcastle is expected to be attended by right-wing One Nation party candidate Mike Holt, known for his harsh position on the advancement of Islam in Australia.
"We're not the racists, we're patriots. And besides, Islam is not a race," Holt commented to the Guardian Australia, stressing that the rallies intend to "stop this racism against us by Islam."

The organizers claim they want "to show the people of Australia we have had enough of minorities not fitting in and trying to change our Australian cultural identity.
"We're not out to demonize the larger Muslim population because we can see the good that they've done. You can see that they've denounced terrorism," Reclaim Australia's spokesman, John Oliver, said.
The rally's organizers stress that its agenda has nothing to do with neo-Nazis or white supremacists, so all banners bearing symbols of such ideology are to be expelled from the rallies immediately. What the group apparently stands for is banning in Australia such things as: Sharia law, Halal food certification, female genital mutilation, the teaching of Islam in government schools, polygamy and the wearing of Burqas.
READ MORE: Anti-burqa protester tries to enter Australian parliament in KKK hood
Hey #aussies -we've updated the #ReclaimAustralia posters- recommend this one -see em all here http://t.co/az0ZNLdyQ0pic.twitter.com/X587Tru6Oe

— Reclaim Australia (@ReclaimAus) April 3, 2015
To counter these Islamic manifestations, the group proposes keeping traditional values and Christian holidays, protecting freedom of speech, introducing "pride in the Australian flag and Anthem at all levels of schooling."
The march already has over 20,000 likes in Facebook, which could indicate that thousands are likely to turn up for the event on April 4.
Reclaim Australia has been widely accused of racism on social media. Rallies to counterbalance the anti-Islamic marches have been planned in Melbourne, Sydney, Brisbane and other cities.
#ReclaimAustralia Just another way to spread hate, islamaphobia and bigotry! Way to go Australia!

— TayMic (@georget76) April 3, 2015
Ah, #ReclaimAustralia says they won't tolerate racist behaviour. While marching to outlaw Islam. LOGIC!

— Steve Dee (@tinstargames) April 3, 2015
So the racists, cough, sorry patriots, of #ReclaimAustralia are marching for Australia. Hopefully in the rain.

— Janet M (@cinderella_oz) April 3, 2015
The Anonymous hacker group has described Reclaim Australia as "an extreme right-wing group inciting religious hatred" and also promised counter rallies on April 4.

"We plan to occupy Solidarity Square in West Perth, so that the racial hate groups cannot hold their [anti] Muslim rally," the group said in a video statement. "We will also be occupying your protest space in Sydney and Brisbane".

Anonymous has also promised "to take their fight to the internet," but did not specify exactly how.
READ MORE: Former Gitmo Australian inmate proclaimed innocent – lawyer
An absolute majority of Muslims that immigrate to Australia do so to find a better life, and they want to live peacefully after coming from countries like war-torn Afghanistan, Afghan refugee Abu Bakar Alam told the Age newspaper.
"Australia is our country – my country and your country. We are like one family, like brother and sister, father and mother. We are all part of the community, and everyone must look after each other," he wrote.
Brisbane Counter-Protest to the neonazi-led "Reclaim Australia" Tomorrow April 4 10AM King George Square #antifapic.twitter.com/G7agLttXfp

— Insurrection News (@InsurrectNews) April 3, 2015
Canberra counter rally against islamophobic Reclaim Australia at 11am tomorrow National Library https://t.co/zCMS5B2z8y

— Vivian Harris (@vivianharris45) April 3, 2015
After Australian police conducted their biggest ever anti-terrorism raids last September, there was a significant backlash against the Islamic community. Conversely, during December's Lindt Café siege in central Sydney, a solidarity campaign was launched on Twitter under the hashtag #Illridewithyou, with the aim of protecting innocent Muslims from any potential retributive actions.
"This demonstrates the goodwill of the Australian public. We need more and more of such activities," Samier Dandan, president of the Lebanese Muslim Association of Australia, told Al Jazeera. "Any event or activity that brings people together will be beneficial."
https://t.co/8rYPnG35pL Anti-Racist Counter Rally tomorrow against the Reclaim Australia protests in Sydney. No tolerance for intolerance.

— Shannon Fraley (@aeardes) April 3, 2015
A survey made in early 2015 by the University of Queensland exposed that as many as three-quarters of Australian Muslims believe they are unfairly targeted by counter-terrorism laws, living "under siege" conditions.
However, a number of bloody incidents and scandals rocked the island continent over the last half-year.
In September 2014, an 18-year-old man, reportedly supporting ISIS, was shot dead after stabbing two police officers in Melbourne, forcing the federal government to tighten security legislation.
READ MORE: Australian 'terror suspect' shot dead after stabbing 2 police officers
"Regrettably, for some time to come, the delicate balance between freedom and security may have to shift," Prime Minister Tony Abbott said in October 2014, ahead of introducing a new bill making it a crime for an Australian citizen to travel to any conflict area overseas once the government has declared it off limits.
READ MORE: Aussie police terror alert raised, officers told to be tight-lipped on social media
"My unambiguous message to all Australians who fight with terrorist groups is that you will be arrested, prosecuted and jailed for a very long time, and that our laws are being changed to make it easier to keep potential terrorists off our streets," Abbott said.
#ReclaimAustralia release official How To March card. pic.twitter.com/murOxmLCTx

— Brenden Prazner (@prazner) April 3, 2015
In February 2015, the PM delivered another speech on national security, which made waves across the international community.
"I've often heard western leaders describe Islam as a 'religion of peace'. I wish more Muslim leaders would say that more often, and mean it," he said.
The head of the Arab Council of Australia, Randa Kattan, responded to Abbott's comments by saying they were "promoting hatred and inflaming racism."
The aforementioned siege by an Islamic extremist in Sydney, in which Iranian-born Sheik Man Haron Monis took hostages at the Lindt Café and was killed as a result of a police operation on December 15, added heat to the situation.
READ MORE: 3 dead, 4 injured after police op in Sydney siege
Randa Kattan acknowledged a sharp increase in racism aimed at Muslim Australians after the siege, and characterized comments made by the Australian PM as "dog-whistling to the racists out there."
"It's not helpful, it's divisive. It labels our community as being responsible for the actions of a few," Kattan said.
You can share this story on social media: