3 dead, 4 injured after police op in Sydney siege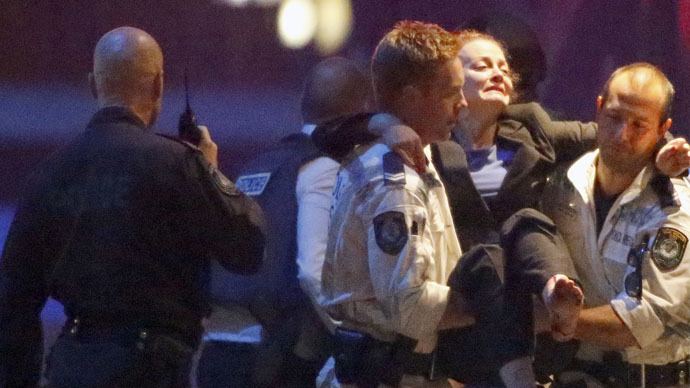 Heavily armored police units have stormed Lindt Café and brought an end to a day-long hostage standoff in the heart of Sydney. Police said three people including gunman were killed, four more injured.
READ MORE: Sydney gunman identified as Iranian-born Man Haron Monis, on bail for violent crimes
As a result of the police operation at Sydney's Lindt Café, the gunman identified as Iranian-born Sheik Man Haron Monis was killed, New South Wales (NSW) police said.
Two hostages, a 34-year-old man and a 38-year-old woman, were pronounced dead after being taken to hospital, police added.
"Two women have been taken to hospital with non-life threatening injuries, while a male police officer suffered a non-life threatening wound to his face from gunshot pellets and was taken to hospital," the NSW police statement continued.

"Another woman has been taken to hospital with a gunshot wound to her shoulder. A 35-year-old woman was taken to hospital as a precaution."
Critical incident established following #MartinPlace death http://t.co/QSpY6AJoei

— NSW Police (@nswpolice) December 15, 2014
An exchange of gunfire inside the café prompted police to move in, police commissioner for the state of NSW, Andrew Scipione, told reporters.
All 17 hostages were accounted for, said Scipione, adding that no explosives were found.
"The exchange was started by three discrete bangs. The first brought about five people from the building. A space followed between the subsequent two and then a near-continuous volley rang out. Dozens of shots," James Robertson, a reporter for the Sydney Morning Herald, reported at the bottom of Martin Place; about 150 metres from the scene.
More gun shots and loud bangs are coming from #MartinPl as heavily armed police stormed café. #SydneySiege#9Newspic.twitter.com/W46SPDZWUD

— Nine News Sydney (@9NewsSyd) December 15, 2014
Roberts said that the hostages fled the scene in two waves. The first group of five left the building with their hands up after the first gun shots were fired. Another group of five or more hostages came out after more shots were fired.
Shortly after police stormed in, paramedics wearing bulletproof vests were seen entering Lindt Chocolat Cafe, located on a pedestrian mall in the central business district of Sydney.
One woman was seen being carried out with blood running down her leg. Paramedics have been seen carrying at least 4 stretchers into the building.
BREAKING #sydneysiege chaos pic.twitter.com/ktTG1PkzYJ@abcnews24 live http://t.co/MbdeP5DASf Ambulances leaving with patents on-board

— Australia Today (@autoday) December 15, 2014
READ MORE: Up to 40 hostages in Sydney as police prepare for 'days-long' stand-off
The dramatic scene follows a 16 hour standoff, after the gunman took over a dozen people hostage. Monis, who refers to himself as "the Brother", is apparently a supporter of the radical militants from the so-called Islamic State (IS), an Iraq and Syria-based terrorist organization aiming to create a fundamentalist nation, or a caliphate in the region.
Police have now formed a line in front of media. #sydneysiegepic.twitter.com/PcQrB9ByNL

— Helen Davidson (@heldavidson) December 15, 2014
The gunman also made three female hostages voice his demands in a video warning that "the Brother" has accomplices and access to explosives.
Live shot from #sydneysiege now on @7NewsPerth some hostages injured, gunman is down, siege over pic.twitter.com/Y9xzfZ7SeQ

— Kate Smithers (@KateSmithers) December 15, 2014
It appears, however, that Monis, who has a history of sex crimes and violence, was acting alone.
"This is a one-off random individual. It's not a concerted terrorism event or act. It's a damaged goods individual who's done something outrageous," his former lawyer, Manny Conditsis, told Australian Broadcasting Corp.
"His ideology is just so strong and so powerful that it clouds his vision for common sense and objectiveness," Conditsis added.
Following police searches earlier in the day, no suspect devices were discovered in or around Martin Place - often described as the civic heart of Sydney where the crisis unfolded. Police have brought bomb sniffing dogs into the cafe to check it for explosives.
You can share this story on social media: