​Up to 40 hostages in Sydney as police prepare for 'days-long' stand-off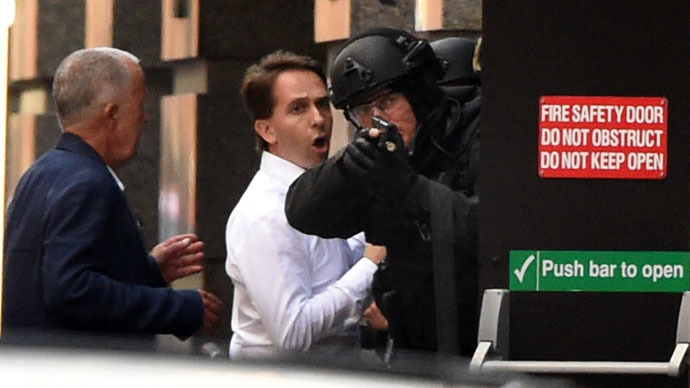 The police siege of a Sydney café, where a gunman is holding up to 40 hostages, may last for days, officials said. The attacker is apparently a supporter of the radical Islamic State group, which Australia is fighting against in Iraq.
According to media reports, police identified the gunman as Sheik Man Haron Monis, an Islamic 'spiritual healer' who is facing charges of sexual assault and being an accessory to murder.
The stand-off in the Lindt Cafe in Martin Place started on Monday, when the gunman, who is believed to be acting alone, took staff members and patrons of the establishment hostage.
READ MORE: #SydneySiege: 'Islamist' hostage drama in Australia LIVE UPDATES
So far five hostages have managed to escape - three men and two women. It is not yet clear whether they managed to escape or the gunman released them. One of them was taken to hospital, but it was due to a pre-existing condition and not related to the crisis itself, New South Wales Police Commissioner Andrew Scipione told journalists.
So far the confrontation remains bloodless, and police say they hope to keep it that way. The siege, involving heavily armed police officers, could last some time, Scipione stressed.
The exact number of hostages remains unclear, with the authorities saying as many as 40 could be held. They also said the situation is localized to the café itself, and that they have found no proof that the gunman might have accomplices or has planted bombs elsewhere in Sydney.
#BREAKING: Man Monis has been named as the gunman behind the #SydneySiege. #9Newspic.twitter.com/NPeQvHs7Pn

— Nine News Australia (@9NewsAUS) December 15, 2014
The attacker, who refers to himself as "the Brother", is apparently a supporter of the radical militants from the Islamic State, an Iraq and Syria-based terrorist organization aiming to create a fundamentalist nation, or a caliphate in the region.
READ MORE: #Self-ish: Sydney siege selfies spark social media backlash
A black-and-white flag called the Shahada – a symbol of adherence to Islam – was displayed in the café's window by one of the hostages. Shahada itself is not an extremist symbol, but many jihadist groups use it as a banner.
The gunman also made three female hostages voice his demands in a video to say that "the Brother" has accomplices and access to explosives.
The videos were published on YouTube only to be taken down for violation of terms of service shortly after.
Australia is a member of the US-led military coalition, which is trying to weaken and ultimately destroy the Islamic State through air strikes and support of Iraqis, Kurds and some Syrian rebels in their fight against the Islamists.
As the crisis unfolds, the Australian leadership requested that citizens keep calm and go about their business as usual.
The police have asked Sydneysiders [residents of Sydney] not to flock to the scene of the crime and allow law enforcers to do their job.
You can share this story on social media: