#Self-ish: Sydney siege selfies spark social media backlash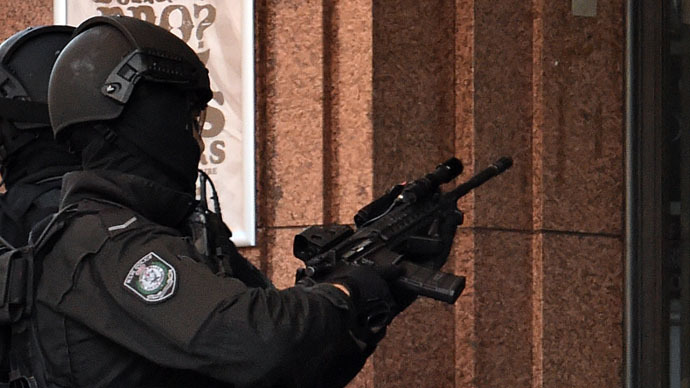 A hostage situation in the heart of Sydney hasn't stopped some passers-by making light of the whole affair, snapping selfies and even knocking back booze while dozens of lives remain at risk. The behavior has sparked fierce criticism on social media.
Twelve hours into the siege, up to 40 people are believed to remain hostage at the Lindt Cafe in Martin Place, characterized as the "civic heart" of Australia's largest city.
READ MORE: #illridewithyou: Aussies call for support, tolerance to Muslims amid hostage crisis
Although five people have managed to escape, the situation remains tense amidst ongoing negotiations with the hostage taker, an alleged Islamist who claims to have placed explosives in the building.
So many words spoken by this powerful photograph. #SydneyHostageCrisis#sydneyseigepic.twitter.com/RVEqaXcKDC

— rose (@loveofmusic_) December 15, 2014
Despite the gravity of the situation, some people have taken a flippant attitude to the entire affair, smiling big for the camera and snapping selfies as close to the scene as possible.
Sydney. Ostsggi e selfie... "@MarkDiStef: The punters are back taking selfies 100m from the Lindt Cafe #sydneysiegepic.twitter.com/sa62odTyWO"

— Mario Sechi (@masechi) December 15, 2014
A few of the selfie-perpetrators did their best to get media correspondents or police in the back ground to up the credibility of the shot.
How to be a complete idiot: take a #selfie w/Police during crisis & post. @edysmack: #sydneysiege I hate this people pic.twitter.com/Hv9JUHihKU

— Kristina Dei (@2kdei) December 15, 2014
These people are taking selfies on the scene of the #sydneysiege. pic.twitter.com/M2ZWqNxKrI

— Matt Karolian (@mkarolian) December 15, 2014
Another group didn't pose for the camera, but was strangely seen swigging from a bottle of wine and smiling at the scene.
Two young guys have arrived and are swigging from bottles of white wine. This is a hostage situation #sydneysiegepic.twitter.com/nwGAIcqt3S

— Let it Di Stefasnow (@MarkDiStef) December 15, 2014
The incidents have caused a stir on social media, with many outright bashing the culprits for their insensitivity.
"Selfie disgrace, how can people pose for pictures at scene of Sydney terror siege?" former Sunday Times columnist Jani Allan wrote on Twitter.
"People taking selfies at the area around the Sydney hostage situation. We have reached peak selfie and it is terrible," writer Ian Miles Cheong wrote.
Journalist and LSE media professor Charlie Beckett took a step back and judged their behavior within the context of the current social media environment.
"They say news is a spectacle so I suppose taking selfies in front of potential tragedies has a social media logic," he wrote.
Others used the negative press generated by the selfie scandal or otherwise insensitive behavior to bring attention to the tolerance campaign #illridewithyou.
"People stressing about #sydneyselfie - there will always be rubber neckers. Instead, take a look at the positive aspect of #illridewithyou," Shaun Hinds wrote.
"Hey Sydney, less #selfie insensitivity, more #illridewithyou," school counselor & psychologist Jocelyn Brewer wrote. "Get some sleep yeah, you need to look your best tmrw."
You can share this story on social media: