#illridewithyou: Aussies call for support, tolerance to Muslims amid hostage crisis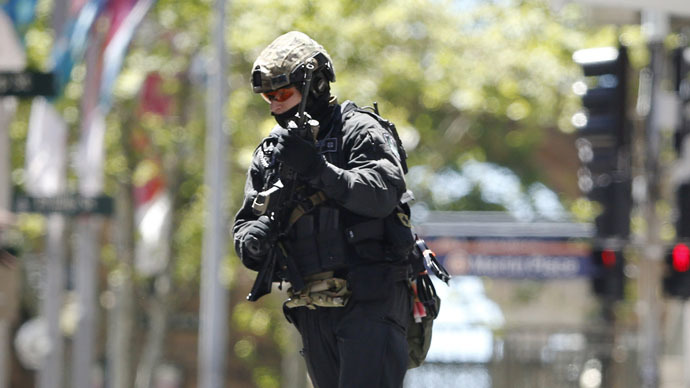 Australian Twitter users have shown their support for their Muslim neighbors with a spontaneous campaign, offering to ride with them on buses and trains, or give them a lift to work to ensure their safety as the Sydney hostage situation continues.
READ MORE: #SydneySiege: 'Islamist' hostage drama in Australia LIVE UPDATES
It all started with a young Sydney woman, Rachael Jacobs, who posted her Facebook status about how she met a Muslim woman and who evidently felt intimidated by taking public transport amid the siege.
"…and the (presumably) Muslim woman sitting next to me on the train silently removes her hijab," she wrote, "I ran after her at the train station. I said 'put it back on. I'll walk with you."
@MikeCarlton01 Don't know Mike, but it is a light. This made me proud to be an Australian #illridewithyoupic.twitter.com/VrgfdPZuDt

— Serf Life Saver (@OccupiedOutback) December 15, 2014
Jacobs' message was met warmly by social media users. In the past two hours the heart-warming #illridewithyou hashtag had more than 90,000 mentions.
UPDATE: There has now been more than 90,000 mentions of #illridewithyou tonight http://t.co/Yg80kag6qz#amazingpic.twitter.com/SEliFNmOfF

— Twitter Australia (@TwitterAU) December 15, 2014
People from Sydney and throughout Australia decided to publicly reach to the members of the Muslim community. They offered to accompany them home tonight or to work tomorrow if they feel afraid or insecure.
READ MORE:Islamist militant takes hostages in Sydney cafe, displays black jihadist flag
"Anybody concerned for their safety going to work in Brisbane tomorrow morning from the Northside, #illridewithyou," wrote @scouse_roar.
Australian Muslims have been responding to the #illridewithyou campaign, thanking those who gave them a lift to ensure their safety.
"A kind lady named Mica drove me home after a cab that we shared from Sydney's CBD wasn't able to drop me off all the way home," wrote @MariamVeiszadeh Twitter user.
To the ladies who I shared a cab with this afternoon - Mica and Dixie, thank you from the bottom of my heart. x #illridewithyou

— Mariam Veiszadeh (@MariamVeiszadeh) December 15, 2014
Today we are One Country, One Nation & One Humanity. This is Australia we dream of, haters & trouble makers have place here. #illridewithyou

— Arif (@Atozai) December 15, 2014
I love reading the #illridewithyou tweets from Australians in response to anti-Muslim hatred in the midst of #sydneysiege. Lovely humanity.

— Charles Clymer (@cmclymer) December 15, 2014
— AAniqaB (@aaniqab) December 15, 2014
The #illridewithyou movement absolutely makes me proud to be Australian. The correct social response to a terrible isolated incident.

— Daniel Hatch (@Daniel_Hatch) December 15, 2014
— Yustrepa Gronkowitz (@RobCoco) December 15, 2014
So clever I'm copying. MT: @Kristen_Boschma: I've made a sticker so people who need me can spot me #illridewithyoupic.twitter.com/PLBTgPrBET

— Larissa Tuohy (@risnavarre) December 15, 2014
forever #illridewithyou#SydneyHostageCrisis#sydneysiegepic.twitter.com/5n1f62WVtA

— Raqib Chowdhury (@raqibc) December 15, 2014

Kinda love this. #illridewithyoupic.twitter.com/UwcwPB1dGn

— Leslie (@darenothope) December 15, 2014
If you reg take the #373 bus b/w Coogee/MartinPl, wear religious attire, & don't feel safe alone: I'll ride with you. @ me for schedule.

— Sir Tessa (@sirtessa) December 15, 2014
Maybe start a hashtag? What's in #illridewithyou?

— Sir Tessa (@sirtessa) December 15, 2014
Following @sirtessa's example, #426/425 bus 2 Burwood, If u wear religious attire, & don't feel safe alone: I'll ride with you. @ 6:30 ish.

— Hannah Groff (@PalindromicGirl) December 15, 2014
#illridewithyou T3 line. I implore you all to get behind this. Stand united, the Australia we know and love.

— Merry Wissmas (@pjwissam) December 15, 2014
I will be catching from Redfern to the city tomorrow morning at 8.45ish. I will do that most days this summer and #illridewithyou. Always.

— Georgia Kriz (@georgiakriz) December 15, 2014
Also can do any of the 423 426 428 422 370 355 buses during the week work hours or weekends if you feel you need company #illridewithyou@me

— ZuckerBaby (@ZuckerBaby) December 15, 2014
If you wear religious attire, & need to get from #Adelaide's west suburbs to the city on Tues but don't want to travel alone #illridewithyou

— Sharna Bremner (@sharnatweets) December 15, 2014
The #11 tram or South Morang line, #illridewithyou

— Ben Williams (@BenitoWill) December 15, 2014
Anybody concerned for their safety going to work in Brisbane tomorrow morning from the Northside, #illridewithyou

— Ben Clark (@scouse_roar) December 15, 2014
James from Ashfield reporting in for #illridewithyou tomorrow morning en route to the city at 8:30am every morning this week.

— James Kozanecki (@Aussie_Kozy) December 15, 2014
I ride Croydon to Town Hall in the morning. Let me know if you need the company. #illridewithyou

— Frances Holland (@frances_holland) December 15, 2014
#illridewithyou is an amazing initiative. I live in Bondi Junction and work in the city. happy to help where possible

— Baehead (Official) (@DECKHEAD) December 15, 2014
#illridewithyou 480, 483, 418, 462, 464, 466 bus routes (I'm in Ashfield). Any time since I don't work! ??

— A Christmas Cathy (@morlonbrondo) December 15, 2014
I'm in. If u wear religious garments & feel unsafe on public transport, I'll sit with u. Redfern-KX, peak hrs. #illridewithyou@sirtessa

— Mia Lazzarini (@mialazzarini) December 15, 2014