Anti-burqa protester tries to enter Australian parliament in KKK hood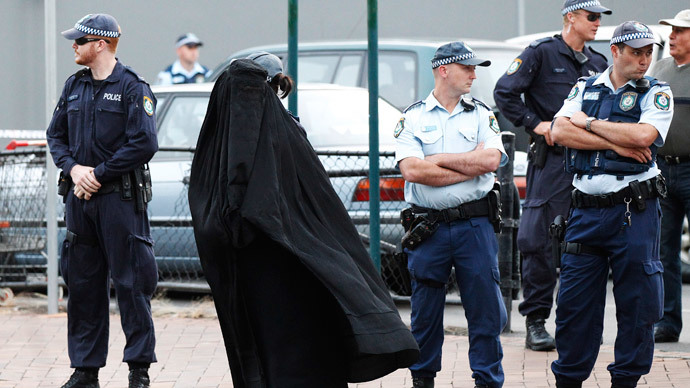 A trio of activists wearing a KKK outfit, a burqa and a motorcycle helmet attempted to enter Australia's parliament house in Canberra, challenging the idea of allowing women wearing face veils in public places.
When the three approached the security, the men wearing a helmet and a Ku Klux Klan hood were immediately asked to remove their headwear, but there was a moment of hesitation concerning the Muslim veil.
Guys from 'Faceless' organisation want face coverings banned everywhere #auspolpic.twitter.com/HQSeiNfTRr

— ToryShepherd (@ToryShepherd) October 26, 2014
"One of the requirements of coming into parliament house is that the motorcycle helmet is going to have to come off, your headdress is going to have to come off and your burqa... your identity will be checked," the security guard told the group, according to the Sydney Morning Herald.

The man in a KKK hood took it off only to reveal he had a burqa underneath.

"Bit of a loophole, eh?" he asked.
Protestor wearing KKK hood reveals he is wearing a niqab when told to remove his hood by Parliamentary security pic.twitter.com/mGa9oPlF5W

— Alex Ellinghausen (@ellinghausen) October 27, 2014
The three men who participated in the stunt - Sergio Redegalli, Nick Folkes and Victor Waterson – are members of protest movement 'Faceless', which is generally against the wearing of burqas or niqabs in public places across Australia.

Their Monday action comes in the wake of the Australian government initially ruling that women wearing face veils should be separated from the public in Parliament House, but later scrapping the decision.

READ MORE:Burqa backtrack: Australia PM reverses parliament veil ban after public outcry

The three later spoke to journalists to explain what they were campaigning for.

"It seems that you're allowed to wear a full-faced covering into parliament if you're a Muslim woman, but no other group is allowed to have that same privilege," Sergio Redegalli, who wore the KKK outfit, told reporters, according to ABC.

"No one should be walking up the [parliamentary] forecourt or in [the] public domain hidden from sight," he added.

The men explained they had nothing to do with the Ku Klux Klan, and were only using its paraphernalia to stress their point.
'Faceless' group protesting at Parliament House. Say they are going to try their luck in a bank next. #auspolpic.twitter.com/qccf3Fyqgq

— Jennifer Rajca (@jrajca) October 26, 2014
There are supporters of the burqa ban among ruling Coalition MPs - including Liberal senator Cory Bernardi, who has praised Faceless for the anti-burqa stunt, saying that it demonstrated "just how ridiculous it is to allow anyone wearing an identity concealing garment into parliament house."

The Australian Christian Lobby's Queensland director, Wendy Francis, has however criticized the group for staging a "hurtful" action.

"To identify [the KKK] with a Muslim woman is extremely confronting and hurtful," she said, according to the Guardian.

Currently, women wearing a burqa or niqab are obliged to show their face to the security at the parliament house, but can continue to wear it once inside.
You can share this story on social media: