Over 100 detained as Turkish police crackdown on 'secular' teachers' protest (VIDEO,PHOTOS)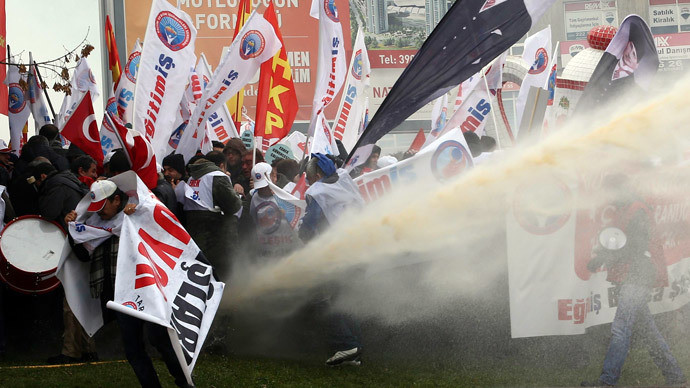 Police in Ankara detained more than 100 people during a protest organized by a secular teachers' union as officers used force to disperse the demonstration in a surprise crackdown.
Hundreds of demonstrators demanding "respect for secular education and labor" gathered Saturday morning in Tandogan Square in central Ankara. According to the protestors, police began to fire water cannons and tear gas on the crowd without warning.
IRKÇI, GERİCİ, BÖLÜCÜ EĞİTİME HAYIR!!! #egitimispic.twitter.com/Ahi8KllmoZ

— DODİKO (@lebezelye) December 20, 2014
Mehmet Balik, chief of the union's Antalya branch, was one of those being held in custody for interrogation. Balik told The Hurriyet Daily News that the police, who called the protests illegal, launched a surprise attack on the crowd.
"We stood up for the rights of our teachers and civil servants, but we were the victims of a police attack without any warning," he said. "They soaked down the group, which also included children and the elderly."
Nesini söyleyim canım efendim! #egitimispic.twitter.com/9g0yWvexee

— DODİKO (@lebezelye) December 20, 2014
Demonstrators, at first, refused to comply with police demands to disperse and insisted on marching towards the Kizilay neighborhood, reports Hurriyet.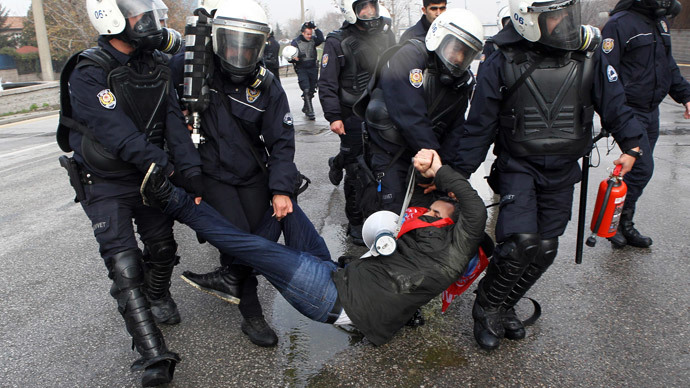 Many of those detained were members and executives of the union, including Egitm-Is head, Veli Demir.
Secularists fear that President Recep Tayyip Erdogan may be steering the country away from the secular foundations established by first president, Mustafa Kemal Ataturk. Erdogan's recent statements on education have prompted concern that he may move to introduce religion into schools. Earlier this fall, Turkey lifted a ban on headscarves in high schools.
READ MORE: Turkey lifts headscarf ban in schools for girls as young as 10
The police crackdown comes amid a larger clobbering of dissent in Turkey. Last week, after a media raid, more than 20 suspected supporters of exiled cleric and foe of President Recep Tayyip Erdogan, Fethullah Gulen were detained. This Friday, an Istanbul court issued a warrant for the arrest of Gulen himself, who is being accused of trying to create a "parallel state."
Tandogan meydaninda müdahale! pic.twitter.com/GsKjEQNN1e

— TGB Ankara (@TGBAnkara) December 20, 2014
READ MORE: Turkey issues arrest warrant for top Erdogan rival Fethullah Gulen
Last March, Erdogan temporarily banned YouTube and Twitter during a corruption probe which resulted in the resignation of four of his top ministers and spurred Erdogan to fire hundreds of officials and police, fearing betrayal.
Critics have accused Erdogan's administration of dogged effort to stomp out opposition.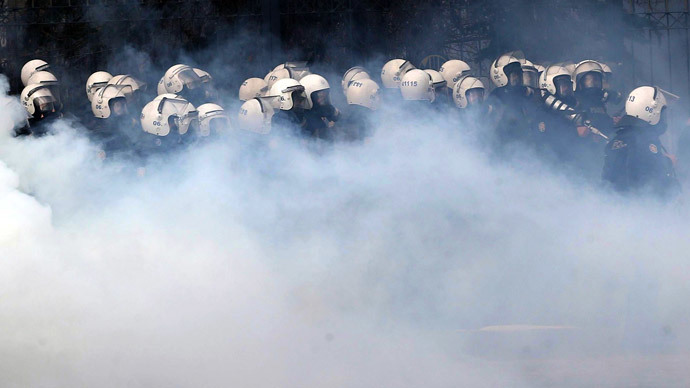 You can share this story on social media: