Turkey lifts headscarf ban in schools for girls as young as 10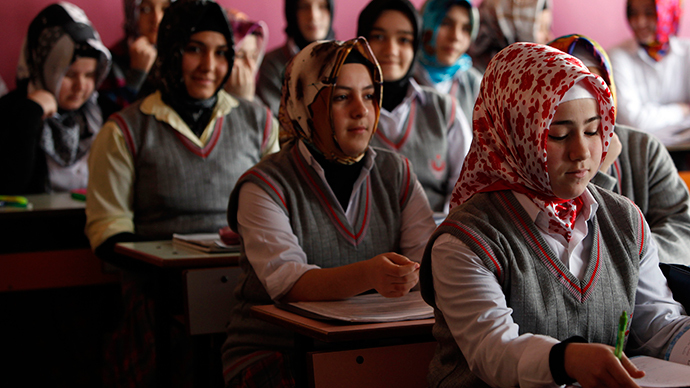 The Turkish government is now allowing girls as young as ten years old to cover their hair while attending school. This amended previous laws that prohibited the wearing of headscarves by students, an act considered to be public expression of faith.
The amended regulation previously stated that "inside school premises, students must be bareheaded, hair should be clean and un-dyed, students can not wear makeup nor grow a moustache or beard."

"Articles of the regulation were changed by removing the expression 'bareheaded,'" Bulent Arinc, Turkey's deputy prime minister and government spokesman, said in a press statement following a cabinet meeting earlier this week.

The amended law applies to the dress code in the country's middle and high schools - grades five through 12 in Turkey. The change does not concern primary schools.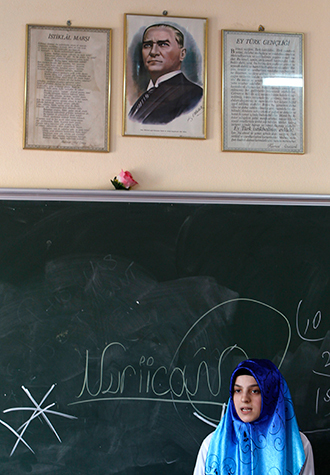 The Islamic headscarf or hijab, known as charshaf in Turkey and several other states in southeast Europe, is worn by devout female Muslims. Girls start covering their hair after reaching puberty, in accordance with Islamic tradition.

The ban, which has now been lifted, had been applied in the country for decades, according to values outlined by the founder of modern Turkey, Mustafa Kemal Ataturk. These principles were based on a strict separation between the state and religion.

According to Arinc, the changes were made after long hours of discussion, but "female students have yearned" for the end of the ban. He added that the amendment was necessary to meet the conditions of a series of democratic reforms, announced in Turkey a year ago.

As part of this plan, a ban on hijabs for state university students and female civil servants was also previously lifted.

Changes to the latest amendment provoked a heated debate within the country. While its supporters say religious women have been returned their fundamental human right, the new law's opponents take it as a threat to Turkish secularism.

"The Islamic veil has no place in schools," the head of the opposition Republican People's Party (CHP) Kemal Kilicdaroglu said, as quoted by the Times of Israel. He added that his party would submit a petition to the constitutional court to have the move annulled.
You can share this story on social media: