Pussy Riot talk politics and RT in London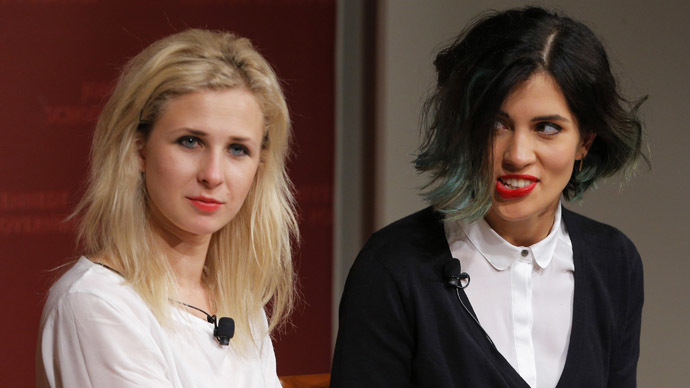 Former members of Russian punk band Pussy Riot are visiting to London for the first time. Besides Trafalgar Square selfies, Nadezhda Tolokonnikova and Maria Alyokhina spoke to the Guardian, extensively about RT.
Much of the Guardian's 'exclusive' coverage of Tolokonnikova and Alyokhina's visit was dedicated to slagging RT, no doubt in the wake of RT UK's launch, which was met with a wave of sneering from the UK mainstream. The same week UK regulator Ofcom announced it was censuring RT, citing a lack of 'due impartiality' on Ukraine coverage in March this year.
"We have to conquer it," Alyokhina told reporters. "Some on the [political]left regard it as an alternative source of media," that "obviously it's good to have all voices on the field," but that "leftists in the West should realize it's in no way a leftish channel."
The girls touched on how watching and appreciating RT is a perfectly natural thing to do if you're a disillusioned Westerner trying to make sense of the world.
Alyokhina and Tolokonnikova spent 16 months in a Russian women's prison for hooliganism motivated by religious hatred. Upon their release under amnesty they pledged to fight for prisoners' rights.
READ MORE: Pussy Riot, Greenpeace activists granted amnesty as State Duma passes bill
The two, who had previously won praise from western pop icons such Madonna and Bjork, began a US concert tour, causing a rift with other Pussy Riot members.
READ MORE: Pussy Riot 'principles violated': Former band members back off from released pair
There was no singing in London, but both brandished new hair color.
В эту пятницу попали на фронт пэйдж. pic.twitter.com/ljLq83bXtB

— Мария Алехина (@MashaAlekhina) November 14, 2014