​Pussy Riot wrangle: Churkin calls out Power in war of words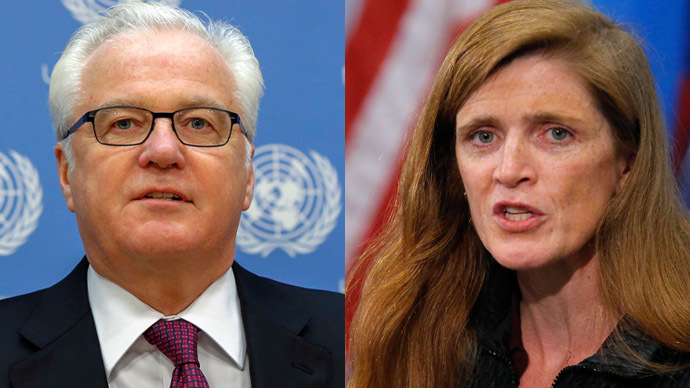 US envoy to the UN Samantha Power has claimed victory in the longstanding row with her Russian colleague Vitaly Churkin over controversial band Pussy Riot. However, Churkin claimed he had indeed responded to her remark, having the last word.
'Tour cathedrals': Russian, US ambassadors to UN trade taunts over Pussy Riot
The 'banter' between the envoys to UN started back in February, after Power met two released Pussy Riot members, Nadezhda Tolokonnikova and Maria Alyokhina. In response to a journalist's question, Churkin wondered if the US ambassador had joined the band yet.
"I would expect her to invite them to perform at the National Cathedral in Washington," he said at the time. "Maybe they could arrange a world tour for them, you know."
"St. Peter's Cathedral in Rome, then maybe in Mecca, Saudi Arabia, ending up with a gala concert at the Wailing Wall in Jerusalem. So if Ambassador Power fell short I would be disappointed," he taunted.
Power responded on Twitter, saying she would be honored to join Pussy Riot, but only if the first concert would be held in support of Russian political prisoners.
"I can't sing, but if #PussyRiot will have me, Amb Churkin, I say our 1st concert is for Russia's pol. prisoners. #LiveFromMatrosskayaTishina," she tweeted in reference to one of Moscow's oldest prisons, which is currently used as a preliminary detention center.
Apparently Power considered her remarks on Russian political prisoners quite brilliant. She didn't miss the chance to boast about her easy victory in the latest edition of Vanity Fair magazine. She claimed that was where the exchange ended, prompting Russian Ambassador's response.
"I got the last word. It's what passes for small victories," Power was quoted as saying by VF.
However, it was too early for US envoy to UN to open a bottle of champagne to celebrate her stunning victory over Churkin.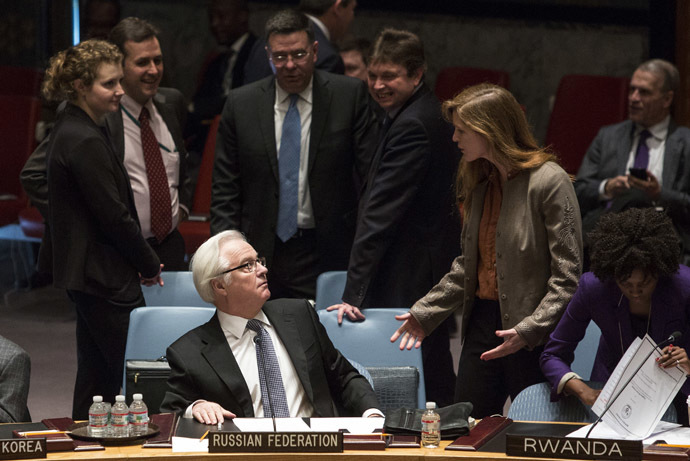 Russian ambassador to UN took on Facebook to "set the record straight." He said he was doing it just "in case this episode goes down in history through Pulitzer Prize-winning memoirs which Samantha, I am sure, is going to write one day."
"I DID respond," Churkin wrote. "I called Samantha and explained to her that Russia did not have any political prisoners. She seemed bemused and promised to get back to me on this. She never did."
On the phone, Samantha wasn't as victorious as in the interview to VF, as she accepted her defeat.
"She did admit grudgingly, however, that I got the upper hand in this exchange, because my response was spontaneous and hers was not, "Churkin added, "I wouldn't claim it was a 'small victory' for me. Let those who like such sort of anecdotes judge."
Churkin added that though Power made remarks about 'Russia's political prisoners', she forgot about US prisons, including the Guantanamo Bay detention camp.
"Frankly, I thought it was rather lame – they never 'performed' in Guantanamo, after all!" said Churkin.
Conscientious objector: US Navy nurse refuses to force-feed Guantanamo detainee
It's not the first time Churkin and Power have been 'exchanging pleasantries'. On March 15 Samantha approached Churkin and began accusing Russia of illegally annexing Crimea. The video of their talk was released in the internet and became viral.
"A thief can steal property, but that does not confer the right of ownership on the thief," she said.
"Today some of my colleagues used excessive language, particularly Miss Power. She … dropped to the level of the tabloid press...it is simply unacceptable to listen to these insults addressed to our country," Churkin said at a press conference some days later.
Nadezhda Tolokonnikova and Maria Alyokhina are two of the three members of Pussy Riot who stood trial on hooliganism charges for their performance at Moscow's Christ the Savior Cathedral in February 2012. The performance was conducted to produce footage for an anti-government music video, which the band later published online.
In August 2012, the three women were sentenced to two years each for the offence, but later the term for the third member, Ekaterina Samutsevich, was suspended by a court.
Tolokonnikova and Alyokhina were granted amnesty in December 2013, a few months ahead of the end of their prison terms. Following their release, the 'newly-backed celebrities' said they want to be involved in human rights activism, particularly in defending the rights of prisoners in Russia.