Obama rules out US military involvement in Ukraine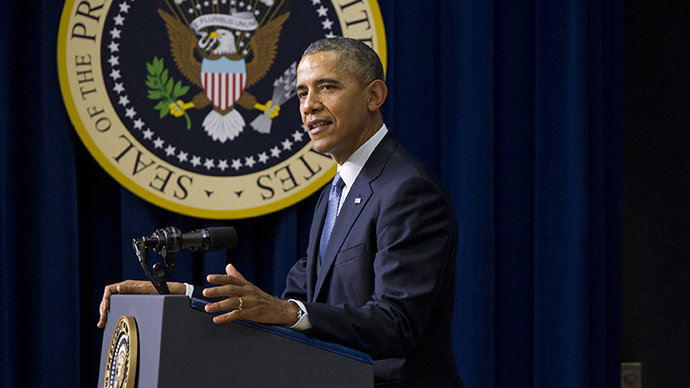 The US will not get involved in a "military excursion" in Ukraine, President Barack Obama said, stressing that Washington will pursue diplomatic means in the standoff with Russia over Crimea.
"We are not going to be getting into a military excursion in Ukraine," Obama told San Diego's KNSD TV.
"There is a better path, but I think even the Ukrainians would acknowledge that for us to engage Russia militarily would not be appropriate and would not be good for Ukraine either."
Obama's comments came as the UN Security Council meeting wrapped up in New York, where Russian Ambassador to the United Nations Vitaly Churkin stressed that Russia is open to dialogue.
Churkin said that Russia is ready to stabilize the situation through a broad internal dialogue within Ukraine, which would include all political forces in the country. He added that Russia believes a multilateral mechanism must be created, stating that it is ready to talk about that in light of the February 21 agreement.
Churkin noted that the crisis in Ukraine began when political figures and international partners forced the country into making an artificial choice between the EU and Russia. He added that Western states still do not feel discomfort placing bets on individuals who are not ready to listen to the Ukrainian people as a whole.
At the same time, Churkin told US ambassador to the UN Samantha Power to stop insulting Russia if Washington wants to see Russia's future cooperation in the UN Security Council. During her speech, Power accused Russia of illegally annexing Crimea.
"A thief can steal property, but that does not confer the right of ownership on the thief," she said.
Watch Marina Portnaya's report on the UNSC meeting:
Power "dropped to the level of the tabloid press...it is simply unacceptable to listen to these insults addressed to our country," Churkin said.
While speaking abut the Crimean referendum, the Russian ambsaddor said that a historic injustice has been righted. "The people of Crimea made their choice, and this choice must be respected."
Assistant UN Secretary-General for Human Rights Ivan Simonovic also spoke at the meeting. He pointed out that Russian speakers in Ukraine face attacks and violence, but not everywhere in the country. Simonovic also discussed the security of Tatars and other ethnic minorities in Crimea.
He was not able to visit Crimea, but described talking to representatives of displaced Tatars and to people who experienced human rights violations.
Simonovic said there is a 34-member human rights monitoring mission being deployed to Ukraine, which is due to arrive by Friday.
In response, Churkin said that Simonovic's observations were "one-sided." He urged not to turn a blind eye to the offenses that occur in Ukraine. The diplomat reminded of what happened on Tuesday, when a Ukrainian nationalist MP assisted by a group of helpers abused and threatened the interim head of Ukraine's National Television Company. They accused him of being anti-Ukrainian and bullied him into signing his resignation, claiming to be members of a new media regulator.
Churkin said that instead of paying attention to those offenses, there are instead falsified alarms about human rights concerns in Crimea – where people were able to organize and keep peace.
He also described the sniper fire from an unfinished building in Simferopol on Tuesday – which killed a Ukrainian solder and a member of Crimea's self-defense forces – as "planned provocation."
The diplomat pointed out that Crimean authorities provide guarantees to all minorities, without exception, adding that in accordance with the agreement on the adoption of the Crimean Republic into the Russian Federation, there will be three official languages in the peninsula: Russian, Ukrainian, and Crimean Tatar.
You can share this story on social media: