'Tour cathedrals': Russian, US ambassadors to UN trade taunts over Pussy Riot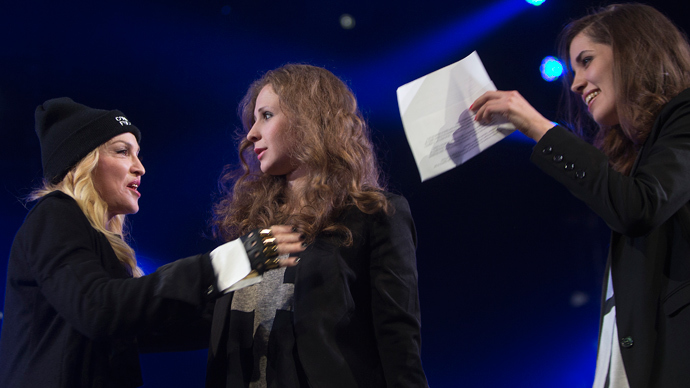 As Samantha Power met two released Pussy Riot members in New York, Russia's Vitaly Churkin wondered if the US ambassador to the UN would join the controversial punk band and suggested a tour route. The jibe did not go unnoticed.
Power, a vocal proponent of American military interventions as a solution to human rights abuses, met Nadezhda Tolokonnikova and Maria Alyokhina on Wednesday as part of their tour of the US.
During the meeting at the US mission to the UN, Power and the two band members discussed "the disturbing trend in [Russia] of legislation, prosecutions and government actions aimed at suppressing dissent and pressuring groups that advocate for fundamental human rights and basic government accountability," according to her deputy spokesman Kurtis Cooper.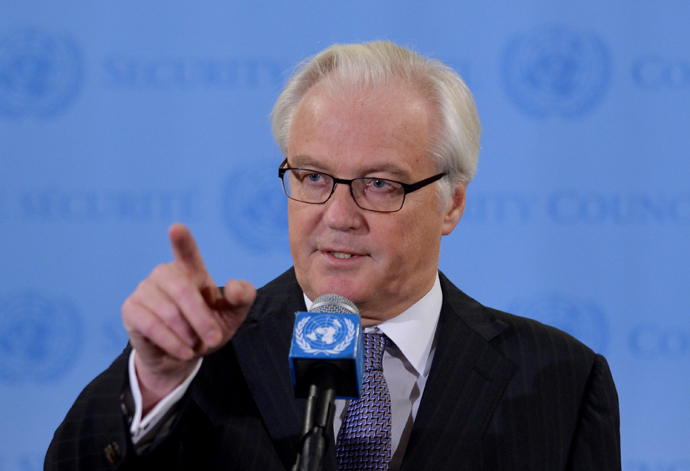 When asked about the meeting, Russian UN ambassador Churkin joked, "She has not joined the band?"
"I would expect her to invite them to perform at the National Cathedral in Washington," he said. "Maybe they could arrange a world tour for them, you know."
"St. Peter's Cathedral in Rome, then maybe in Mecca in Saudi Arabia, ending up with a gala concert at the Wailing Wall in Jerusalem. So if Ambassador Power fell short I would be disappointed," Churkin said.
Power responded on Twitter, saying she would be honored to join Pussy Riot and invited Churkin to join in.
"I can't sing, but if #PussyRiot will have me, Amb Churkin, I say our 1st concert is for Russia's pol. prisoners. #LiveFromMatrosskayaTishina," she tweeted in reference to one of Moscow's oldest prisons, which is currently used as a preliminary detention center.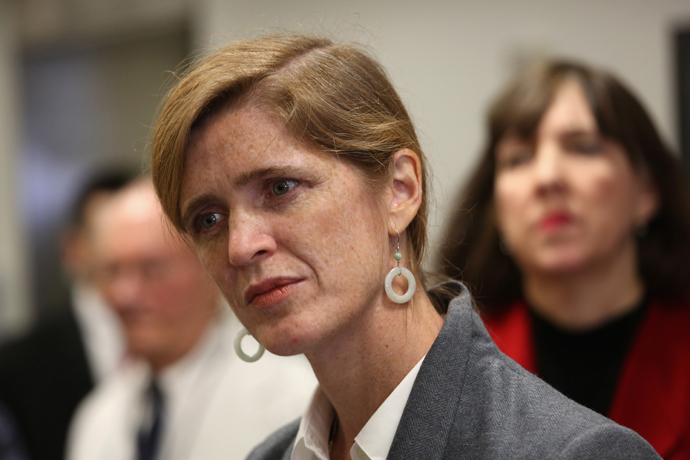 Tolokonnikova and Alyokhina are two of the three members of the group who stood trial on hooliganism charges for their performance at Moscow's Christ the Savior Cathedral in February 2012. The performance was conducted to produce footage for an anti-government music video, which the band later published online.
In August 2012, the three women were sentenced to two years each for the offence, but later the term for the third member, Ekaterina Samutsevich, was suspended by a court. Samutsevich is not accompanying her former co-performers on their US tour.
The two honored Pussy Riot members were granted amnesty in December 2013, a few months ahead of the end of their prison terms. Following their release they said they want to be involved in human rights activism and particularly in defending the rights of prisoners in Russia.
Their Wednesday meeting with Ambassador Power was followed by a visit to an all-star concert in the New York borough of Brooklyn, where they were welcomed by their long-time supporter Madonna.
You can share this story on social media: