Pussy Riot band members released from jail, call amnesty 'PR stunt'
Nadezhda Tolokonnikova on Monday became the second Pussy Riot band member to be released under a massive amnesty. She left her prison in the Siberian region of Krasnoyarsk, hours after her bandmate Maria Alyokhina was released in Nizhny Novgorod.
Alyokhina and Tolokonnikova, were serving two-year terms for hooliganism. Both were sentenced over their 'punk prayer' act in a Russian Orthodox Christian cathedral.
Both activists were pardoned under a massive amnesty signed by President Putin last week.
As she was leaving the prison in Krasnoyarsk, Tolokonnikova told reporters she is now going to do what she can to help other prisoners, saying that there are now "blood ties" between her and the penal system.

"I am in the mood to work after release," she told RT's video agency Ruptly. "It is all starting with my release, as the line between being free and not free is very thin in Russia, in an authoritarian state. Release is the burden of responsibility, which now falls on me, including to those who stayed behind bars here [in Krasnoyarsk] and in Mordovia."

Tolokonnikova said she would release details of her next project after she meets her bandmate, Maria Alyokhina.

"I want to call Alyokhina and we will discuss the prisoners' human rights project," she said.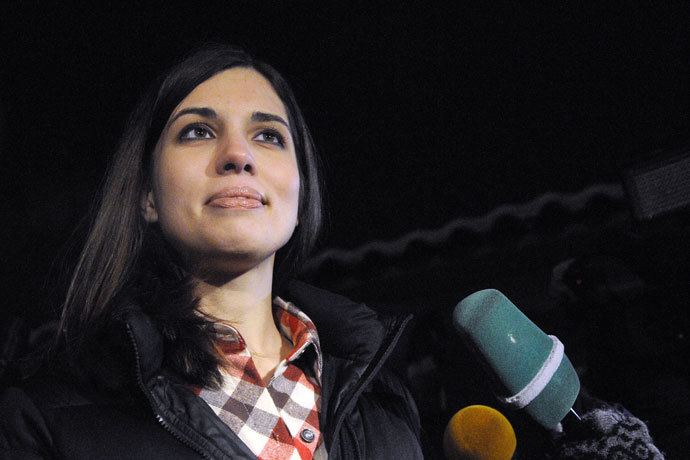 Tolokonnikova had a tumultuous experience with the Russian penal system, being moved from one prison to another, coupled with starting a hunger strike in September, which she says was motivated by the harsh conditions in one of her prisons, including alleged threats to her life from the prison's administration staff.
After prison authorities yielded to her demands, she was transferred to a prison in the Krasnoyarsk Region, followed by another move to a prison hospital, from which she is being released today.
As for Alyokhina, who was freed earlier in the day, her first plan is to meet with Tolokonnikova and discuss their human rights activists. She has arrived in Moscow on an express train from Nizhny Novgorod, Interfax reported.
Surrounded by a crowd of journalists, Alyokhina explained why she would like to denounce her amnesty, which she called a "PR stunt."
"I declared my refusal of the amnesty, because I don't need mercy from [President Vladimir] Putin, first of all; second, yes, I am not indifferent to those women's [prisoners] fates," she told the journalists.
Alyokhina said she will be engaged in human rights activities, focusing on inmates' rights. When asked how she would work, Alyokhina said she would take part in human rights organizations, but the methods they are going to use will be the same.
"I feel a responsibility to those people who complained to human rights defenders, but who remain in prisons, so I should not leave it just like that," Alyokhina said.
Alyokhina, Tolokonnikova and a third member of the feminist punk band, Yekaterina Samutsevich, were among a group of masked people who went into Moscow's Christ the Savior Cathedral in February 2012 to make footage in its sacred altar area for a music video. The video released later on the Internet was an anti-government 'prayer' full of obscenities.
The three were tried for inciting religious hatred over their actions in the cathedral and sentenced to two years in prison each. A court later changed Samutsevich's sentence to a suspended one, because unlike the two other convicts she didn't actually enter the altar area while dancing in the church.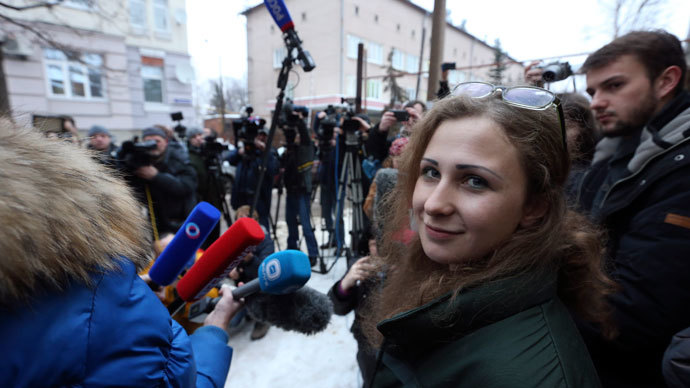 Pussy Riot members asked the European Court of Human Rights (ECHR) in Strasbourg to declare the Russian government guilty of breaching four articles of the European Convention on Human Rights and Fundamental Freedoms.

On Monday, the court declared the complaint, which is over 350 pages long, admissible and prepared questions to the respondent, AGODA Human Rights Association said, Interfax reported.

Lawyers for Tolokonnikova, Alyokhina and Samutsevich complained that the group's conviction violates four articles that guarantee freedom of speech, the right to liberty and security, the prohibition of torture and the right to a fair trial.

Russia will be obliged to answer ECHR's questions regarding the case. The government has reportedly started working on a memorandum, in which it will present its point of view or may dismiss the complaints, Interfax reported.
The prosecution was viewed as a politically motivated trial by many critics of the Russian government. The girls were praised as artistic freedom fighters by some celebrities, including Madonna, Sting and Yoko Ono.
The majority of Russians, however, approved of the prosecution of the group. According to an opinion poll held shortly before their sentencing, only 15 percent of Russians said the band members should not be punished at all, while 42 percent agreed that they had offended Christian believers with their actions, and 53 percent said churches were no place for a political protest. But most of the people polled said the offence deserved a fine or compulsory communal work, rather than a prison term.
The amnesty, which was passed to mark the 20th anniversary of the Russian Constitution, covered some 25,000 people. In addition to members of Pussy Riot, some other prominent prisoners were eligible for amnesty, including the 30 Greenpeace activists under investigation over their protest at an Arctic oil rig in September, and opposition activists involved in rioting at Moscow's Bolotnaya Square in May 2012.
On Friday, another prominent Russian inmate was pardoned under a separate decree. Mikhail Khodorkovsky, a former oil tycoon who was convicted for fraud and money laundering, was released after serving 10 years.
You can share this story on social media: