World's leading pop stars plead for Pussy Riot parole ahead of hearing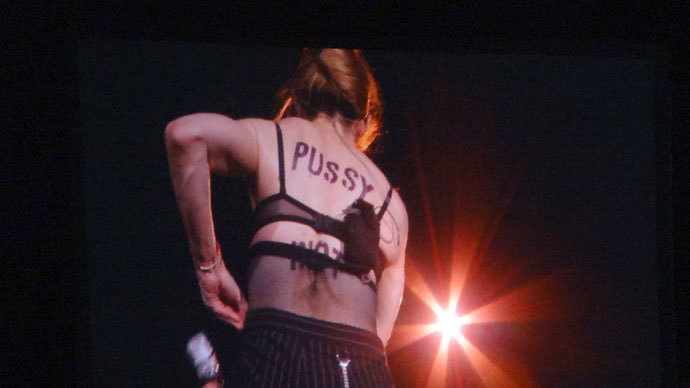 U2, Madonna and Adele are among over a hundred of the world's most famous artists who have signed an Amnesty International petition asking for the release of two members of the Russian group Pussy Riot, days before their parole review hearings.
"The impact of your shockingly unjust trial and imprisonment has spread far and wide," says an open letter to Nadezhda Tolokonnikova and Maria Alyokhina, who are both serving two year prison terms for an anti-religious performance in Moscow's Christ the Savior Cathedral in February 2012.

"While understanding the sensitivities of protesting in a place of worship, we ask that the Russian authorities review these harsh sentences, so that you may return to your children, your families and your lives."
25-year-old Alyokhina and 23-year-old Tolokonnikova are appealing against an earlier decision to refuse them parole on Wednesday and Friday respectively.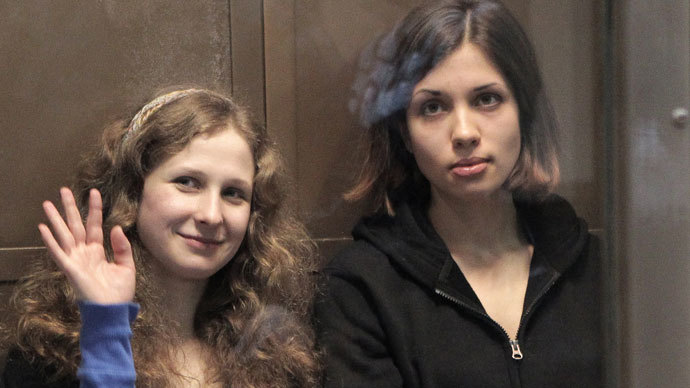 The two have spent almost a year behind bars following a high-profile trial, in which they were indicted for "inciting religious hatred through hooliganism".
Pussy Riot's performance – entitled Punk Prayer – consisted of climbing on the altar of Moscow's main cathedral before shouting a poem directed against the Orthodox Church and its ties with President Vladimir Putin.  The performance provoked outrage from senior church officials, and sparked a heated social debate.
Last week Alyokhina alleged that she was beaten by her guards during her transfer from her penal colony to her parole review. Authorities admitted restraining the inmate, but said she did not suffer injuries.
Both Alyokhina and Tolokonnikova have refused to admit guilt, and remained defiant while in custody – both factors were listed as reasons for denying them early release during hearings this spring.
A third member of the loose collective, Ekaterina Samutsevich, was released on probation late last year.
Scores of musicians visiting Russia over the past 18 months – such as Madonna and rock band the Red Hot Chili Peppers – have shown support for Pussy Riot by wearing t-shirts with their name or making statements from the stage.

Among other signatories to the open letter include Bruce Springsteen, Paul McCartney, Elton John, Radiohead and Coldplay.