Moscow City Court rejects Pussy Riot appeal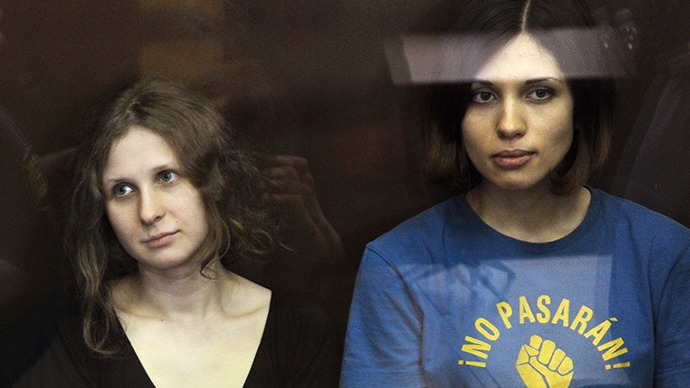 Two years in jail for Pussy Riot members is a lawful term and the case has no political connotation, Moscow City Court ruled, dismissing the supervisory appeal by defense. Two members remain in prison for their 'punk prayer' in Moscow's main cathedral.
"There are no politics, they are just hooligans," the chairwoman of the court, Olga Yegorova, said after the hearing.
Yegorova has ruled that in August 2012 the court appropriately sentenced members of the 'feminist punk band' Pussy Riot – Nadezhda Tolokonnikova, Maria Alyokhina (along with Ekaterina Samutsevich, whose term was later changed on suspended one) to two years in prison for aggravated 'hooliganism motivated by religious hatred'. Despite Alyokhina having a child, she was still denied parole.
The trial was held after the group performed what they called a 'punk prayer' in Moscow's main cathedral, chanting the song 'Mother of God send Putin Away', recording it and posting the video on the internet.
The lawyer for the other jailed Pussy Riot members, Irina Khrunova, considered the ruling "predictable" and said she was now going to file a complaint with the Russian Supreme Court.
"I won't comment on actions or words of the chairwoman of the Moscow City Court, I will, however, continue to fight injustice," Khrunova told Interfax.
The defense insists that the clients must be fully acquitted as their crime was of a non-violent nature and caused no material damage. Another complaint is that there were alleged procedural violations during the investigation and the trial process itself.
The women themselves also deny all charges saying that the gig was a political protest against the ties between Russian authorities and the leaders of the Russian Orthodox Church.
A Russian court earlier denied Alyokhina's request for early release, filed seven months after the sentence was passed. Moreover, she was not allowed to be present at the hearing. In protest against a court's decision not to allow her to personally attend a hearing, Alyokhina declared a hunger strike. As the appeal concluded, she vowed to continue with her hunger strike.
On Tuesday, less than a week after she declared a hunger strike, Alyokhina was reportedly transferred to a medical station in a penal colony in Perm Region, where she is serving her sentence. Russia's Federal Service for Execution of Punishment (FSIN) has confirmed the information that was initially tweeted by Tolokonnikova's husband, activist Pyotr Verzilov. 
"She still refuses food," the FSIN said.
You can share this story on social media: