Pussy Riot sentence unlawful, must be canceled – HR ombudsman Lukin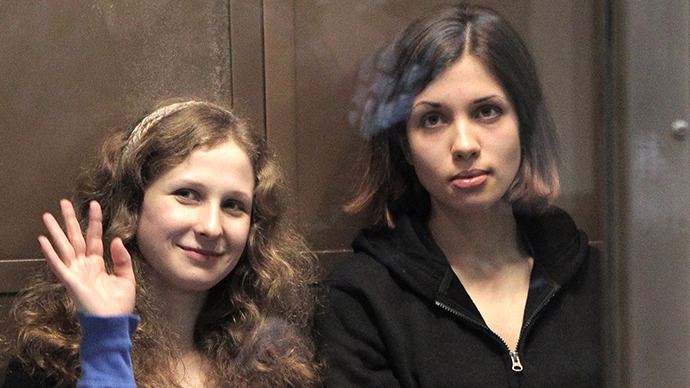 Russia's top human rights official has addressed a court with a request to cancel the prison sentences of the members of the world-famous feminist punk band Pussy Riot, saying they are unlawful.
The news about the ombudsman's intervention came after the Presidium of the Moscow City Court accepted the appeal by the Pussy Riot defense team, who continue to insist that their clients must be fully acquitted as their crime was of a non-violent nature and caused no material damage.
In addition the defense points to alleged procedural violations during the investigation and the trial process itself.
This time, however, the lawyers' claims are backed by Vladimir Lukin, Russia's top ombudsman for human rights, who requested that the sentence be canceled.
The punk performers violated no laws, only the internal conduct rules of the Christ the Savior Cathedral where they performed their most famous stunt, reads Lukin's address to the court, which was partially reprinted by Kommersant daily.
Such behavior cannot be considered a blatant violation of public order and besides, the prosecutors failed to prove that the convicted girls were motivated by religious hatred, it reads. Therefore, Lukin concludes, the court verdict must be recognized as unjust and annulled.
Russian law allows the human rights ombudsman to contest any court sentence or decision. According to Lukin's office, it received over 50,000 requests for intervention in cases in 2011 alone, but the ombudsman responded in only a few cases, sometimes pressing for the reversal or softening of sentences.
The head of the Russian rights NGO Agora, Pavel Chikov, told Kommersant that in his view, the letter from the ombudsman seriously increased the chances that the verdict in Pussy Riot case will be canceled or at least reconsidered into a softer one.
In August 2012 three members of the 'feminist punk band' Pussy Riot – Nadezhda Tolokonnikova, Maria Alyokhina and Ekaterina Samutsevich were sentenced to two years in prison each for aggravated 'hooliganism motivated by religious hatred' (later, the court changed Samutsevich's sentence to a suspended one).
The trial was held after the group held what they called a 'punk prayer' in Moscow's main cathedral, chanting the song 'Mother of God send Putin Away', recording it and posting the video on the internet.
The process was initiated by believers who claimed the stunt seriously hurt their religious feelings. The girls denied all charges saying that the gig was a political protest against the ties between Russian authorities and the leaders of the Russian Orthodox Church.

You can share this story on social media: