Pussy Riot shines in EU despite orgies, blasphemy and hooliganism
Published time: 25 Sep, 2012 16:34
Edited time: 25 Sep, 2012 21:20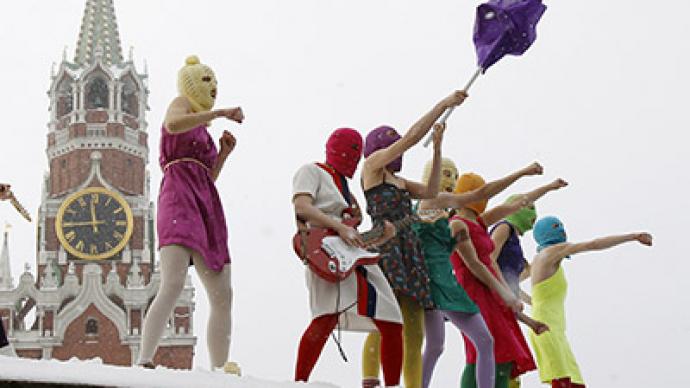 The EU parliament nominated a controversial punk band whose members were recently sentenced to two years in prison for "inciting religious hatred" for a human rights prize, sparking intense condemnation from Russian officials.
On Tuesday, deputies of the European Parliament nominated Pussy Riot – the punk band that used Christ the Savior Cathedral as a bully pulpit to rail against the Orthodox Church and President Vladimir Putin – for the prestigious human rights prize that bears the name of nuclear physicist turned human rights champion Andrey Sakharov.
The Russian Foreign Ministry slammed the decision as evidence of blatant disregard for Russia's judicial proceedings.

"This initiative cannot be qualified in any other way except an attempt to intervene in the work of an independent branch of authority in Russia, and to cast doubts on a court ruling, passed in accordance with the law," Konstantin Dolgov said in a statement posted on the Foreign Ministry's website on Tuesday.
The nature, goals and forms of their action have nothing to do with the "freedom of thought" central to the Sakharov Prize, Dolgov said.
United Russia MP Sergey Zheleznyak, Deputy Chair of the State Duma, weighed in, deriding the announcement as "immoral" and a brazen assault on Sakharov's memory.
"Nominating these hooligans in the name of Andrey Sakrakrov condradicts the basic principles of [the prize], and the main idea of establishing such an award," Itar-Tass quoted him as saying.
Three members of the feminist protest group – Nadezhda Tolokonnikova, 22, Maria Alyokhina, 24, and Yekaterina Samutsevich, 30 – were found guilty on charges of "hooliganism and inciting religious hatred," and sentenced to two years each in prison. Although the trio dominated international headlines with their self-described 'punk prayer' at the altar of Russia's main cathedral, the group was also known in Russia for a series of infamous performances that lived up to their sexually explicit name.
In February 2008, Tolokonnikova participated in a performance coordinated by the group 'Voina' ('War' in Russian) in which couples were filmed having group sex in the Timiriazev State Biology Museum in Moscow. The group claimed the act was a protest on behalf of women's rights.

The sexually explicit video was uploaded to the Internet, much like the 'punk prayer' video recorded inside Christ the Savior Cathedral.
The presentation of the nominees for the Sakharov Prize will be held in Brussels on September 25, while the award presentation ceremony will take place in Strasbourg in December. The prize, which comes with a 50,000 euro purse, is awarded to individuals and organizations that made a special contribution to the protection of human rights.
Past recipients of the Sakharov Prize have included Kofi Annan, Nelson Mandela and Reporters without Borders.