'If I were a judge, I wouldn't jail Pussy Riot' - Medvedev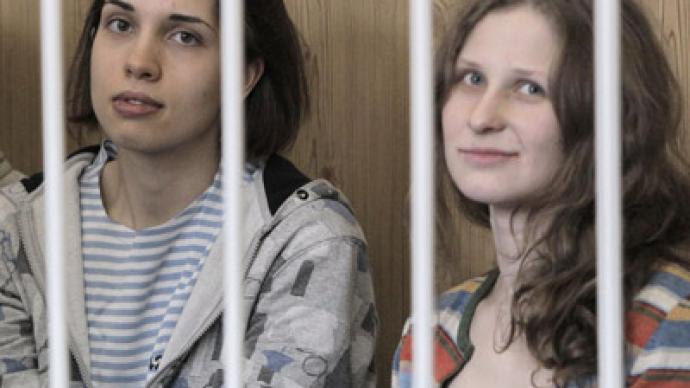 Russia's Prime Minister Dmitry Medvedev says that even though he really dislikes members of the female punk band Pussy Riot for their action in Moscow's Christ the Savior Cathedral, he still would not send them to prison.
"These characters – the way they look and what they do – put me off. The impression they make on me is so negative that I don't want to talk about them," Medvedev. However, the added, he does not consider it correct to send the members of the band to jail."They have already spent a long time behind bars. That's enough, really," the head of the government believes.Medvedev was commenting on a question as to whether the Pussy Riot members would be freed ahead of the end of their jail term. This was during a meeting with winners of international academic competitions on Friday. The Prime Minister stressed that this matter is up to the court to decide. "This question shouldn't be addressed to me. It should go to our courts, and to the band members' defense lawyers. They have the right to file relevant requests – which I think they will use – and the court has the right to consider the issue," Medvedev observed.The premier, known to be a big fan of rock music, also said he does not think Pussy Riot members, who are now famous even outside the country, "have anything to do with music." They have not a single song that would be a hit at least on the internet, he noted. "There's no music there, I have never heard it," Medvedev stated. On August 17, three members of the infamous band were sentenced to two years behind bars for hooliganism after their protest action – the so-called "punk-prayer" – in Moscow's main cathedral in February. In October, one of the young women, Yekaterina Samutsevich, was released on probation after successfully appealing her conviction. The two others will serve their terms in remote penal colonies in Perm and Mordovia. The case triggered harsh criticism from rights activists both in Russia and abroad, with many seeing the trial as politically-motivated.
You can share this story on social media: